Retractable Textile Patio Roof for Large Areas and High Wind Environment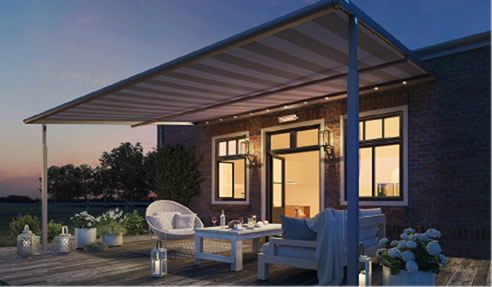 Homeowners, architects, interior designers, and proprietors need to look no further than Blinds by Peter Meyer for their comprehensive range of retractable textile patio roof systems for large areas and high wind environments.
The Australian-owned and operated company is the exclusive supplier of world-renowned Weinor retractable textile patio roofs that deliver sophisticated design perfect for residential, commercial, and hospitality applications.
Aside from the elegant profiles, the Weinor retractable textile patio roofs display high quality and functionality, allowing users to enjoy the outdoor environment while being protected from natural elements and weather conditions.
Peter's Picks: Pergotex II Retractable Textile Patio Roof
Pergotex II is an upscale retractable textile patio roof system from Blinds by Peter Meyer. It features the cutting-edge and fully retractable Cambrio folding system for efficient rain, wind, and sun protection.
The retractable textile patio roof assembly ensures its users will not get caught out in the rain. Pergotex II has an integrated drainage system which guides the lateral flow of rainwater along its guttering through the post and downwards. Furthermore, Pergotex II has an aluminium fabric safety shield that absorbs the sound of raindrops for added comfort.