Acoustic Linings for School Buildings from SUPAWOOD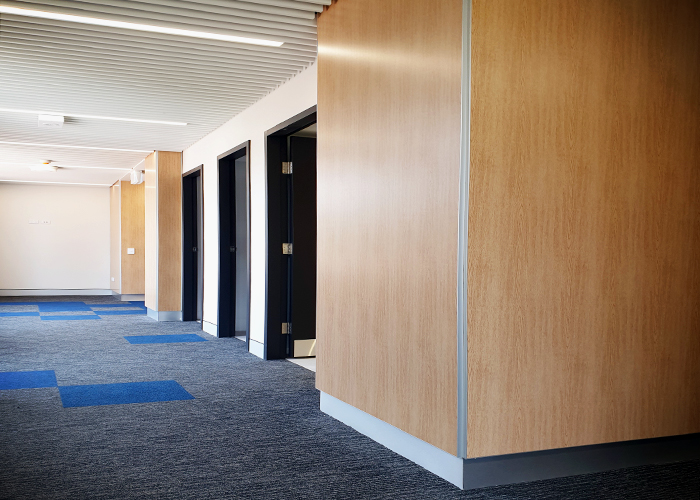 Stanton Dahl's diverse mix of linings for school building
Multiple SUPAWOOD products have been applied to both the interior and exterior in the redeveloped senior school at Arden Anglican School in Essex St, Epping NSW. The school's brief to Stanton Dahl Architects was to design and deliver a new facility to provide the senior school with a functional 21st century learning hub. Designed vertically over 5 levels the new building connects seamlessly to the existing building and provides a new main entrance for the school.
The designers wanted to partially wrap the exterior façade in metal beam screens applied vertically against the side of a building and finished in colours that reflect the schools insignia. Structural integrity and installation methods were a concern, but by choosing ALUCLICK aluminium 'quick click' pre-engineered beam system, these concerns were overcome and they were able to fix the beams directly to the building's structural steel.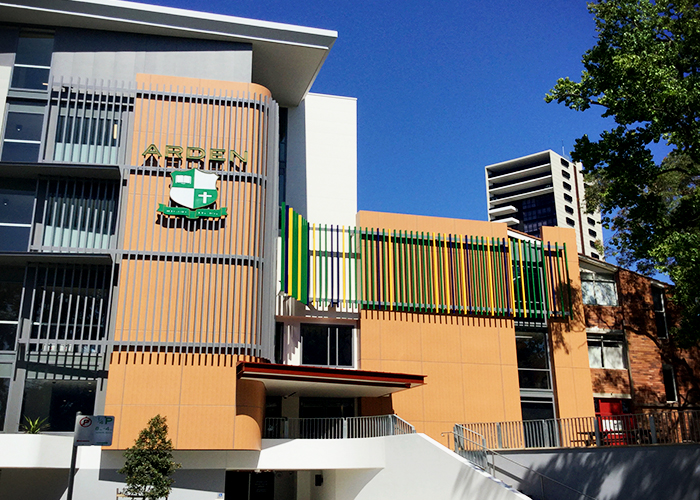 Approximately 1000LM of 100mm x 50mm ALUCLICK aluminium beams were supplied and then cut onsite. These were pre-finished in solid colour external grade powder-coat, Duratec Intensity Evergreen, Storm and Sunshine, and Duratec Zeus Grey. Matching back capping and end caps were also supplied where these parts were visible, along with stainless steel fixing clips which suited framing by others. The ALUCLICK beams are Fire Group 1 to BCA clause C1.10 and come with a 15-year warranty when used externally. Wind loading was also considered and allowed for.
In the centre of the building is a multipurpose hall, the ceiling of which has been lined with SUPACOUSTIC perforated panels finished in SUPAFINISH Tasmanian Oak laminate. This ceiling addresses the acoustics across the wide area of the space. Also included across the ceiling are SUPAFINISH Black solid strips and returns.
Other areas of the building where SUPAWOOD products have been used are in several of the lift lobbies. Here the walls adjacent to the lift doors are lined with durable SUPALINE panels finished in SUPAFINISH Tasmanian Oak laminate. Clear anodised aluminium trims were also supplied for these areas.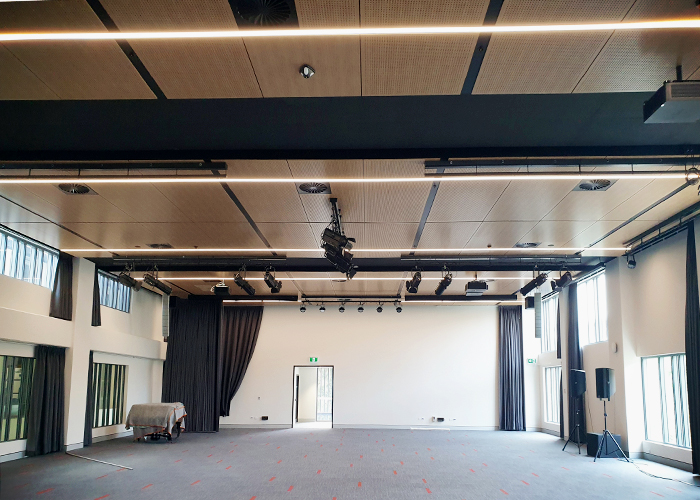 The ceilings of the lobby areas are lined in SUPASLAT profile 5 slats finished in SUPAFINISH White 1100 laminate with a SUPABAB acoustic backing. These panels were supplied with the slats slightly further apart than normal in order to allow for services to be inserted between them.
The SUPAWOOD team worked closely with all involved to ensure that the project went smoothly. This project demonstrates how one Australian manufacturer can supply versatile lining products suitable for a very wide range of applications, inside and out.
Installer Bill Awad, Contract Administrator of Salex Ceilings, says; "SUPAWOOD have provided the supply works which include the external aluminium ALUCLICK beams, internal perforation ceiling, lift lobby timber slats, and timber wall linings. We thank you for your help, cooperation, managing, and delivery through this project."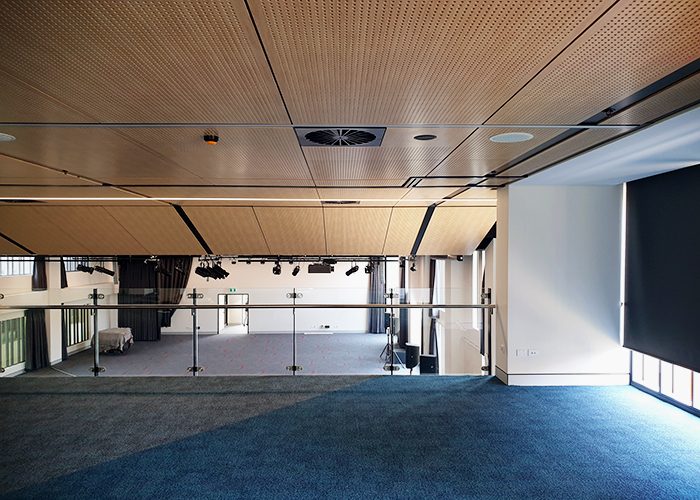 Photography courtesy of Bill Awad, Salex Ceilings.