Effective Removal of Chemical Contaminants from Airepure Australia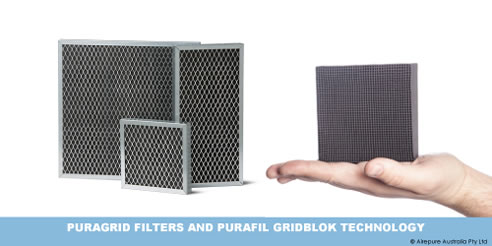 PuraGRID by world leading manufacturer of gas-phase air filtration systems, Purafil Inc. is a modern new filter design that utilises patented GridBLOK™ technology to supply large amounts of chemical filtration with minimal pressure drop.
GridBLOK™ is a unique gas-phase air filtration medium comprised of activated carbon and other specialised formulations, in the form of an extruded monolithic block consisting of many small, parallel cells or channels. The entire composite structure of the GridBLOK™ is composed of 100% adsorbent materials allowing it to function as highly efficient gas filter.
Features include:
- Full utilisation of media, as turbulent airflow through cell structure provides high contact efficiency with contaminant gases
- No contaminant bypass, as all the air goes through the filter
- Removal efficiencies comparable to granular media
- Low pressure drop for energy savings
- Self-supporting structure for stability
- Various composite structures available to target specific chemicals
PuraGRID filters offer increased operational performance and energy savings for many indoor applications.