Under Soil Heating System from Aquatherm Australia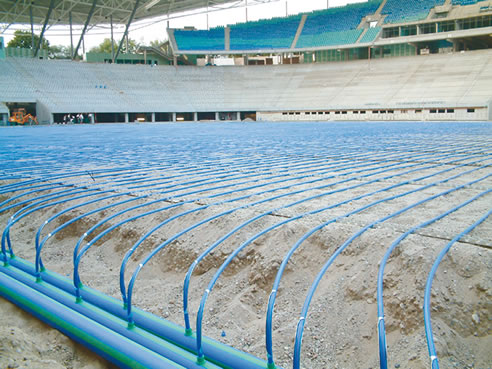 To keep a pitch with natural or artificial turf free from ice and snow aquatherm offers a system to provide an under soil heating efficiently and effectively, even under consideration of environmental aspects.
The ideal combination of climatherm- and fusiotherm compounds, permanently connected by fusion, allows it.
The weld-in saddle technique, developed by aquatherm is used for the distribution pipes, manufactured like the manifold connection pipes from climatherm-faser composite pipes.
The distribution pipes are connected by reverse return (Tichelmann-principle). The heating pipes may be laid in crosswise or lengthwise direction of the pitch.
The positioning of the manifolds depends on the structural conditions and the position of the stadium. The laying of the under soil heating, designed by aquatherm, is effected in counter flow principle.
Uncontrolled loss of energy and heat, arising above the pipework in areas which may not be used for heating the pitch must be avoided. Hence, these pipes must be insulated with a material suitable for the installation under soil. For this purpose the pipes and fittings are insulated with a PUR-insulation in PE-pipe by the manufacturer.