Slatted Timber Curved Ceiling with SUPASLAT from Supawood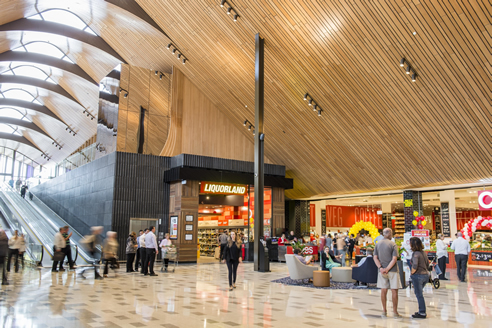 Architectural marvel becomes reality for shopping mall
SUPAWOOD turned a stunning but geometrically complex concept by UK firm ACME into reality at Robina Town Centre.
SUPAWOOD designed and engineered SUPASLAT panels to not only curve but also twist in order follow a complex and uniquely curved ceiling in the "Market Hall" addition, completed and opened in late May 2015.
Construction designed by The Buchan Group Brisbane and constructed by ADCO Construction, this project involved major renovations and extension to the Gold Coast's largest shopping destination. The $50 million project was delivered whilst maintaining the operational capacity of the existing centre.
The slatted timber ceiling forms a wave effect which twists and curves in two directions and is integrated with south facing windows, this effect being repeated several times down the length of the mall. SUPAWOOD was the only company who were able to solve the complex shape required to allow the slatted panels to follow the intended multifaceted geometry.
Nothing quite like this had been done before anywhere using the modular panel system that was needed to be able to install the vast expanse of the ceiling in the required program time. SUPAWOOD constructed a full size prototype to prove and test the SUPASLAT panel system solution.