Double-Sided Gas Fireplace DX1000 by Escea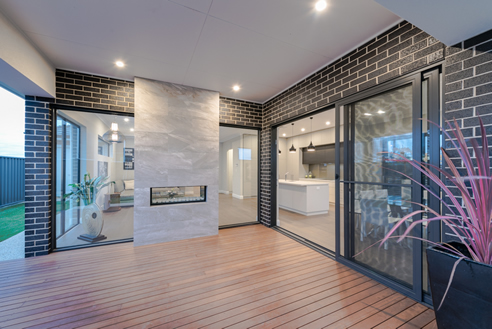 Indoor Outdoor Flow with an Escea DX1000
An award-winning building company's Melbourne display home connects indoors to lush wetland outdoors. A tiled feature wall enclosing a double-sided Escea DX1000 is the focal feature.
Multi-award winning bespoke building company APS Homes designed the home, known as 'Black Stallion.' Designed for luxury family living, the two-story home overlooks one of the development's wetlands. Black Stallion boasts a commanding exterior which takes full advantage of its corner position to maximise the home's street appeal. Christine Trimmer from The Dream Room was contracted by APS Homes to design Black Stallion's interior.
The brief was open, bar the stipulation that Black Stallion would reflect natural products and use muted tones. Trimmer says, "The goal was to create something modern and fresh that would still appeal to quite a broad market; something new and innovative that would speak to Baby Boomers and second and third home owners. We used stone, natural and neutrals with a lot of contrast textures to achieve the look and feel."
Seeking to create an indoor/outdoor feel with a fireplace as a focal point, Trimmer was looking specifically for a 'see-through' gas fireplace from the concept planning stages. "I wanted the benefit of being able to enjoy the fireplace from both the al fresco and the interior living areas." She selected an Escea DX1000 frameless model with a white coal fire bed in keeping with the neutral, textured interior.