Floating Acoustic Ceiling Panels from Supawood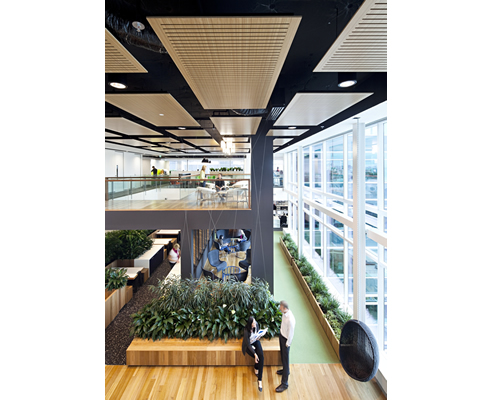 Floating acoustic panels in BVN's prize winning fit-out
SUPAWOOD's SUPACOUSTIC NCK floating acoustic panels form a floating ceiling feature in the innovative office fit-out for AECOM, located in Brisbane's Fortitude Valley. This multi-award winning fit-out by BVN was aimed at creating a modern open environment over 5 levels to accommodate the client's entire staff from 8 Brisbane locations, merging them into one productive workplace.
The communal rather than territorial approach to the workspace required large voids to be cut through the existing building to create a unified space over all five levels, providing a sense of connectivity and transparency. However, this open design posed sound reverberation problems throughout, for which a simple acoustic panel noise reduction solution was sought. The product also needed to work around existing fixtures and other interruptions in the newly created ceiling expanse.
SUPACOUSTIC NCK floating acoustic ceiling panels addressed these needs perfectly.