MAXI BEAM Ceiling Compliments Colonial Fitout by SUPAWOOD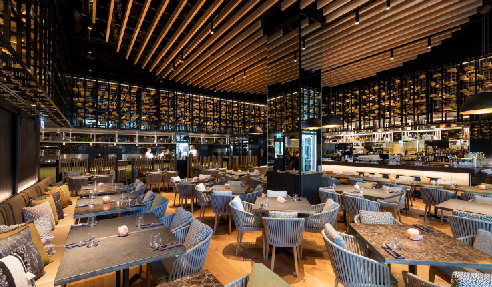 MAXI BEAM Ceiling Complements Colonial Heritage of Fitout Site
SUPAWOOD's lightweight MAXI BEAM ceiling forms an integral part of the engaging, award-winning Husk+Vine Kitchen and Bar located in one of Parramatta's high-profile redevelopments.
Nic Graham & Associates' design plan incorporated a suspended chunky beam ceiling, but to successfully achieve this, a lightweight alternative to solid timber was required. The product also needed to be easy to work with onsite and supplied within a tight lead time.
Lightweight MAXI BEAM overcomes logistical issues and can be suspended without the extra reinforcement of the structure above. The beams are extremely easy to work within confined areas and come in a huge range of stunning finishes. They can also be supplied within a short lead time, making them a suitable ExpressFit solution.
The Husk+Vine Kitchen and Bar is the main eatery for V by Crown Group serviced apartments in Parramatta, which sits on the foundations of the old Wheatsheaf Hotel heritage site dating back to the early 1800's. The restaurant sits alongside the public display showcasing the ruins, and its décor is designed to reflect the area's old colonial past.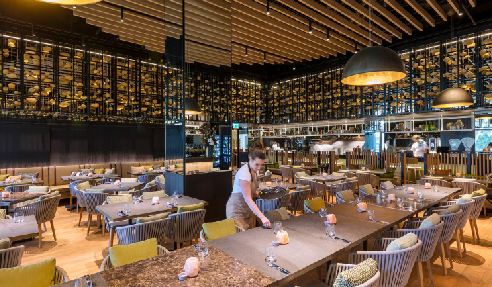 The featured MAXI BEAM suspended ceiling in a durable Supalami Rustic Oak blends beautifully with the other architectural elements chosen, successfully bringing together the site's heritage with a contemporary look and feel.
Crown Group's Husk+Vine Kitchen and Bar won the Interior Fitouts $1,600,001 - $2,000,000 category at the 2017 MBA NSW Excellence in Construction Awards. Judges praised the capability of Crown Group to deliver the innovative interior fit-out's design and commented:
"Specific treatments, some outstanding decor and exceptional finishes capture the lifestyle of today creating a vibrant atmosphere effectively fulfilling all of the owner's aspirations. Everyone participating in this installation can be very proud of their efforts."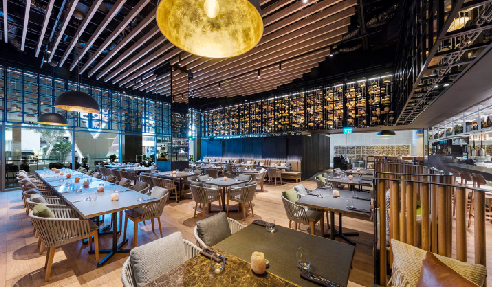 For more information on MAXI Beam, visit www.supawood.com.au.