Solar Reflective Paint Keeps Classrooms Cool from Cocoon Coatings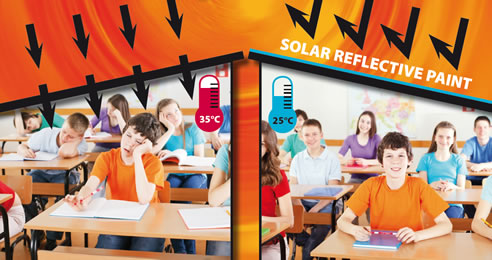 Are your Students and Teachers suffering from the heat?
With high tempertures in the classroom Students and Teachers experience
- Lack of Concentration
- Loss of productivity
- Uncomfortable environment
- Lessons are disrupted by constant requests for time out to get drinks
- Classes cancelled due to heat conditions
So why put up with this any longer, reduce the heat and save on cooling costs
- Reduces up to 50% of solar heat entering building
- Significantly reduces internal temperatures
- Improves Staff and Students productivity
- Reduces air-conditioning cost by up to 48%
- 15 Year Warranty
The Solution is Cocoon Solar Reflective Painting System
Creating a Learning Advantage
Electricity consumption meters were installed by McKinnon College's Facility Manager on two identical portables.
- One of the portable buildings was treated with Solar Reflective Coating in October 2007.
- Usage patterns and operation of the portables have been consistent ever since.
Electricity Consumption Results:


Experience the Advantages of Cocoon Coating:
- Rapid deployment with minimal disruption to programs
- An opportunity for social science experiments
- A cooler internal building temperature on hot days
- Continuous energy and cost savings: saving you more each year