Custom Length Clotheslines to Fit any Span or Space from Versaline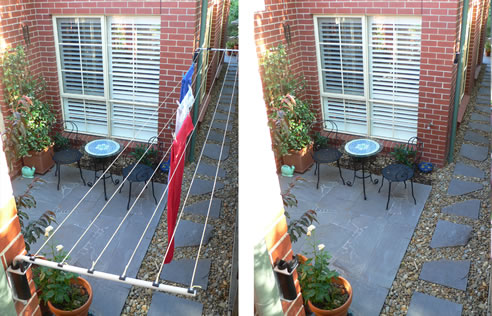 Having unsightly issues with the existing clothesline?
Create space and remove the eyesore at the same time.
Luise from Victoria writes, "We live in a townhouse with a tiny garden. The existing standard washing line took up a large part of the garden; in fact it was the main feature! We have replaced it with a Versaline Broadline clothesline in the courtyard. As you can see, it disappears from sight when needed. The brackets are on the blind side of the house and the clothes gently sway in the breeze when the line is up. For us, this was a great solution to a tight problem."
Being able to maximising on available space by allowing the user to make a clothesline any length to suit that space is what sets Versaline clotheslines apart from the others. Versaline recognizes that not all homeowners are blessed with the room to place a traditional clothesline, so it was their mission to provide an alternative clothesline that could be custom made to make better use of the available space around the home, and also make it so that the clothesline can be easily removed to return that space to a functional area for recreational purposes.
In Luise's situation, as is often the case, the best drying area is also the best area suitable for entertainment purposes. So doesn't it make sense to utilise such a great area for both purposes rather than finding another hidden out of the way area for a clothesline that's probably unsuitable and is not going to dry the laundry as well. The Broadline and Slimline clotheslines were designed for just such circumstances. Not only can these clotheslines be custom made any length to make the best use of the area, you can have the clothesline up on washing days, and easily remove it during other times. And it's so easy to remove, a child could do it, and it's so compact that it can be packed away in a laundry cupboard.
The standard Broadline and Slimline clotheslines can be made any length up to 5 metres, and the extended versions up to 7.5 metres. They are available in either a powdercoated finish or in a 316 marine grade stainless steel for coastal environments or just for that modern look.
To find out more about Versaline, please visit www.versaline.com.au