Clothesline Airer for Pool and Spa Areas from Versaline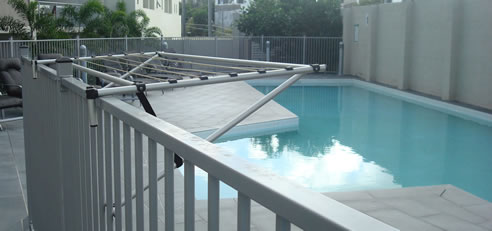 Versaline had developed a handy Airer for pool and spa areas
How handy would it be to have a clothesline in a pool or spa area to keep the towels off the pool fence? Versaline have come up with a new clothesline/airer suitable for these areas, and it's portable so that it can be moved about to follow the sun.
Versaline's Hook&Away clothes airer will hook onto any partition structure bordering a pool or spa area including; pool fencing; Colorbond or paling fences; brick walls; or even glass panels. And the Hook&Away is not just limited to pool areas, as this airer would be a handy extra for anywhere around the home where there is something to hook onto.

The Hook&Away is constructed from lightweight aluminium and it is anodised to suit sea-side areas or around salt pools. The Hook&Away is non-fixed, so is portable, allowing it to be moved about to suit conditions and can also be folded flat for easy storage.
And because the Hook&Away is a non-fixed airer, it makes for a great accessory for apartment living, and renters who can take it with them when they move on to another location.
To find out more about the Hook&Away or any other Versaline products, please visit www.versaline.com.au