Window Film Assosciation Member TintFX Wins AWA Design Awards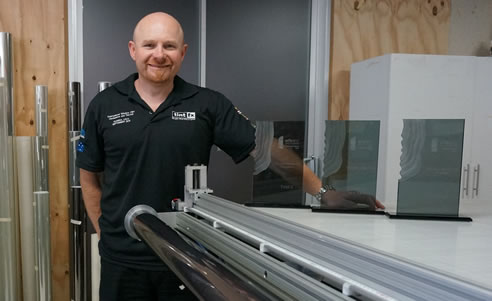 Film star scoops award pool
Window film installer Aaron McCarthy, TintFX, was awarded three trophies at the AWA Design Award presentations in Canberra on October 5, winning every category for which he was eligible.
The national awards, organised through the Australian Window Association and announced at Fenestration Australia 2013, were for WERS For Film Installer of the Year, Best Use of Window Film Residential and Best Use of Window Film Commercial.
"This week marks my 20th anniversary installing film so I'm confident in my expertise and training, but I was still shocked to discover I'd won all three categories," Aaron said.
"As house prices, mortgage rates and electricity costs keep rising, people need sure-fire ways to keep utility bills down. I became accredited in WERS For Film because I wanted my customers to be able to quantify the energy benefits of the film I install, to maximise the return on their investment. That's why this industry recognition through the WERS For Film Installer of the Year award is so rewarding."
Solar control or Low E film can save up to 30% on electricity bills, and a WERS For Film certificate helps prove it when it comes time to sell a home. WERS stands for the Window Energy Rating Scheme, an independent star rating system much like the energy stickers seen on whitegoods. Stars are awarded for a film's heating and cooling ability, making it easier to compare products and pick the right one. The accreditation program certifies installers like Aaron who are then authorised to provide certificates.
TintFX has issued over 500 WERS For Film energy certificates in the last six months alone.

The residential award Aaron received was based on a project in a new housing estate in Beacon Hill, Sydney. The facade of the North facing, two-storey home contained 50m2 of windows, with limited trees for shade and privacy. A film with maximum privacy, heat and glare properties was selected to combat the building's exposure and privacy issues. The film prevents people from seeing inside the home, while still allowing the family to see out.
Home-owner Chris Broad comments, "The glass is now a usable feature rather than a burden."
Aaron said, "Major renovations aren't required to significantly help a home's efficiency. In one day windows can be turned into high-performing units that change the way a family uses their home.
"It's an exciting time to be a window film installer," Aaron continued, "...products are available that rival a new window in regards to their energy performance. Home owners are realising they needn't spend a fortune on new windows when they can get the same result with film."
TintFX is a member of the Window Film Association of Australia and New Zealand (WFAANZ). For more information about window film please visit www.wfaanz.org.au.