Decorative Window Films from WFAANZ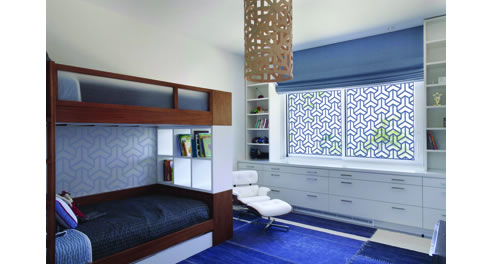 The new blank canvas
Injecting your personality and artistic style into a room is traditionally done using paintings, prints, photos and ornaments. For something different though, you need only look to your windows.
Decorative window film can be customised with any pattern, image or design and in any colour of your choosing, limited only by your imagination and creativity. Once printed the film is easily applied to the interior surface of the glass by a professional installer.
What was once a commercial product - you know the glass etched with corporate logos or privacy frosting in banks or offices? - has now moved into the residential domain. Stained glass effects can be achieved at a fraction of the cost of new windows, bright designs can coordinate with soft furnishings or colour coded to suit the room's décor.
Certain panes of a window can be filmed (as in the examples below) to give both privacy and a subtle point of interest. Different levels of opacity, glitter effects, textures or etched styles can be achieved.
Michael Miller, President of the Window Film Association of Australia and New Zealand (WFAANZ), says, "We've found decorative film extremely popular in rooms with an unappealing view, that are too close to their neighbour's house or where passers-by can see in."
If you are interested in giving your windows, transoms or glass doors an artistic make-over please feel free to contact WFAANZ or visit www.wfaanz.org.au.