Shopping Centre Interior Lining Systems from Supawood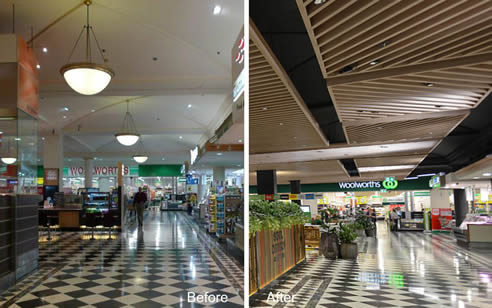 Upgrading the interior ambience of a tired shopping centre
SUPAWOOD'S Supaslat MAXI BEAM lightweight beams have been used to transform the tired 90's interior at Westfield Penrith's fresh food market in NSW into a vibrant contemporary setting.
The designers, Scentre Group, needed to find a chunky look timber beam product which was light enough to suspend from the existing ceiling without the major expense of reinforcement to the overhead structure. It was vital that all work could be undertaken cleanly in a live environment with minimal disruption to trade in the market.
The designers chose Supaslat MAXI BEAM because it is light in weight, clean to cut onsite and easy to install with its proprietary fixing system. The beams are also available in a choice of economical low maintenance and durable concept timber laminate finishes.
To achieve a new look and invoke a more intimate atmosphere in the market while staying within a specific budget, the designers decided to use MAXI BEAM fabricated into open raft like panels in a light rustic timber finish. This meant lighting and other services could be easily integrated between the beams and easy access to the area above maintained. To further lower the ceiling and enhance the effect of the suspended timber rafts, the surface above has been painted matt black.