Custom Acoustic Panels from Supawood Architectural Lining Systems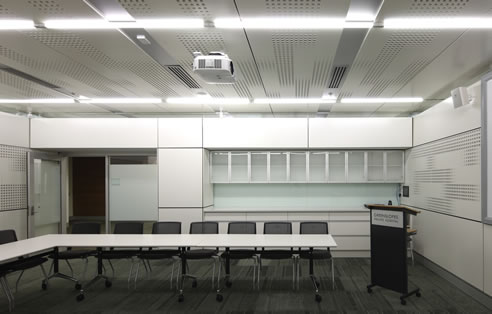 Supawood's Supacoustic custom acoustic panels used extensively for both the ceiling and wall panels in a hospital clinical school redevelopment.
Supawood's Supacoustic prefinished ceiling panels have been extensively utilized in a major redevelopment of the clinical school teaching facilities of Australia's largest private teaching hospital working in partnership with the University of Queensland.
This intricate project involved new construction which had to be completed within the confines and constraints of a fully operational hospital environment without any unscheduled loss of service. This meant that the work had to be completed cleanly and within strict lead times. Supawood's acoustic panels met these needs perfectly as they are supplied prefinished and could be quickly installed with their own fixing.
For the tutorial areas and lecture theatre the designers chose Supacoustic custom perforated acoustic panels mixed with Supaline solid wall panels in a highly durable Supacolour finish for wall and ceiling panels throughout.
Supawood provided the know how in collaboration with the design team to produce the intricate high-tech custom acoustic design for the perforated panels. Careful design of the fixing system was required to maintain maximum open area of the special acoustic design especially over the vast ceiling of the 140 seat lecture theatre. In this area the layout of the panels had to be planned to accommodate the need for the space to be converted easily into two separate rooms as needed. The designers found Supawood's technical advice invaluable to reach this objective successfully.
The Supacoustic custom acoustic panels mixed with the Supaline solid wall panels have achieved a stunning but simple aesthetic affect, enhancing areas that otherwise could have been clinical and uninteresting. This is an exciting example of how Supawood custom acoustic panels and solid wall panels can be used.