Slatted and Acoustic Patterned Ceiling Tiles from Supawood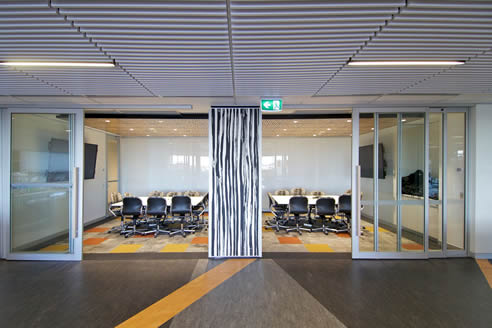 Priority Building defines Activity-Based Workplace with ceilings
SUPAWOOD's slatted and acoustic patterned ceiling tile products have been used extensively to define different areas of the Thiess extended activity-based workplace in Brisbane, Queensland.
Thiess, the world's largest mining services provider, decided to expand to a further floor of the building they already occupied. The client briefed Priority Building to design a new activity-based workplace with an emphasis on environmental efficiency and contemporary open-plan adaptable configuration which would further encourage team interaction plus remain flexible for future growth.
The designers chose SUPATILE SLAT and SUPATILE DIT for the features on the ceilings as they were available with Fire Retardant and low VOC options and, not only do they provide access into the ceiling but it meant the existing ceiling grid could be utilised. All these benefits perfectly addressed both the environmental and flexibility concerns of their client.
The slatted and patterned acoustic ceiling tiles have been cleverly used to define a variety of spaces as well as address noise reverberation in those areas. The featured areas of the ceiling outline flexible spaces below which can be altered in size to accommodate both collaborative work zones and smaller more intimate spaces.