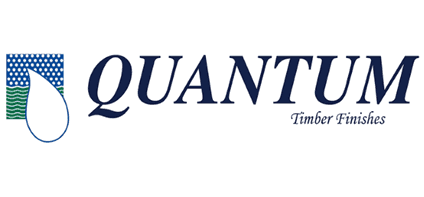 Company Profile
Quantum Timber Finishes is a division of the Australian owned manufacturing company Mirotone. The Quantum product range has a focus on environmentally responsible bio-based timber finishes. The product range includes:

• Interior and Exterior timber finishes
• Decking finishes
• Wood treatments
• Flooring finishes
• DIP

Quantum supply timber finishes Australia wide through a large network of local trade paint stores, supplying professional tradespeople and DIY customers. A growing number of Architects and Designers are specifying Quantum's products as they see the benefits of these environmentally responsible products designed for Australian conditions.

Quantum takes pride in supplying high quality, Australian made timber finishes. Quantum Timber Finishes is dedicated to ecologically sustainable products. In order to marry ecological concerns with the durability of our products, we conduct research within our company and source outside technologies to develop products which are both effective and safe.

All Quantum AQUAOIL and TIMBRE PLUS finishes are formulated from vegetable derived resinated oils sourced entirely from renewable resources, and are made using very minimum of volatile organic compounds (VOC's) that do not have a petro chemical base.

VOC's are organic chemical compounds that have a high enough vapour pressure to enter the atmosphere. All our finishes have low VOC content and reactive nature which have proved to be of benefit both to the environment and those who suffer from paint allergies.

The drive behind our ongoing research is to further develop products that outperform in the wood care field whilst minimising the impact on the environment. All Quantum products are manufactured in Australia. This enables us to monitor the factory process assuring us and our customers of the highest quality, environmentally friendly products on the market.

Quantum Timber Finishers
1800 053 018
147 Ordish Road, Dandenong, VIC, 3175
* If you would like to update the text on your profile page, please contact Spec-Net.