Fast Decking Recoat Finish from Quantum Timber Finishes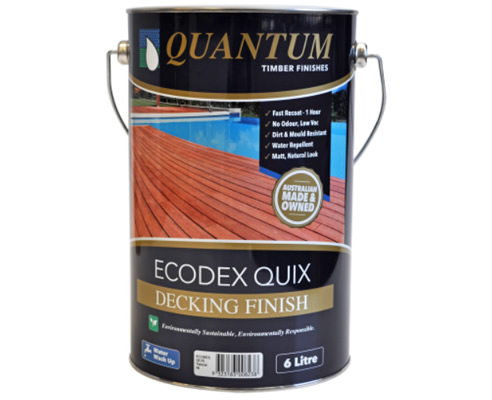 ECODEX QUIX Decking Finish is one weekend project you won't mind doing!
Quantum Timber Finishes are pleased to announce the launch of ECODEX QUIX, our new one hour recoat decking finish.
ECODEX QUIX is a deeply penetrating water based oil that nourishes and protects the timber resulting in a natural looking matt finish. Designed and manufactured in Australia to protect your timber deck from harsh Australian conditions, ECODEX QUIX is a durable, water resistant timber finish that will weather naturally without the risk of flaking, blistering or peeling. Being water repellent it will minimise cracking and splitting of the timber by creating a protective barrier that reduces water penetration, ECODEX QUIX also resists stains, dirt and mould helping the timber to stay fresh and clean.
Available in a natural finish, ECODEX QUIX can also be tinted to one of Quantum's transparent tint colours.
ECODEX QUIX is low VOC (Volatile Organic Content - solvent), has no odour and cleans up in water making it more pleasant for the user to apply. Being made from bio-based, ecologically sustainable products, using ECODEX QUIX is also environmentally responsible.
So don't put off coating your deck any longer and take advantage of the early summer weather to start enjoying your deck. Start in the morning and you'll be back on your deck by the afternoon!
For your nearest store nearest store