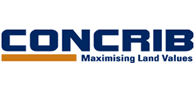 Company Profile
Concrib began more than 20 years ago - when Martin Silec founded "Concrib Retaining Walls" in 1984. The company was one of the first in Australia to supply and install crib wall and sleeper wall systems.

Concrib has been providing retaining walls, erosion control systems and soil stabilization systems ever since.
Our continued and stringent adherence to the highest standards, throughout the manufacture and installation processes, laid the foundations for the solid reputation for exceptional service and quality, which we still enjoy today.

We have a team of more than 50 people, which engages in large-scale turnkey projects (approaching $2 million) — primarily in South East Queensland, but also overseas as far afield as Brunei and Malaysia.

Our team comprises:
• Working company directors with combined experience of over 70 years in the design, supply, and construction aspects of this industry.
• Site supervisors with the right knowledge, experience, and attitude to maximise performance, quality, efficiency and safety.
• Permanent site labour personnel who know their jobs, and, with consistency in employment, reflect a consistency in high work standards.



Concrib Pty Ltd
07 3375 1800
601 Boundry Road, Richlands, QLD, 4077
* If you would like to update the text on your profile page, please contact Spec-Net.