Concrete Sleeper Wall System from Concrib
Concrib Sleeper Walls used in NSW development
Concrib's sleeper wall system was specified for Mirvac's development at Saddlers Ridge - its latest planned community in Gilleston Heights near Maitland, NSW. Saddlers Ridge was one of Mirvac's premium developments, with the intention to present the blocks near flat and ready for building.
The development was at the foot of the Hunter Valley, and would offer the exclusive lifestyle of a country atmosphere and spectacular rural outlook, with all the amenities of a town. Client requirements necessitated a retaining wall system that would tick all the boxes for maximising land value, be aesthetically pleasing and meet the design life standards for residential retaining wall systems.
Concrib provided the ideal solution for Saddlers Ridge
Concrib was engaged by the contractor Robson Civil to supply and install a vertical cantilever concrete sleeper wall system. 600 square metres of walling was installed, which reached up to a height of 2 metres.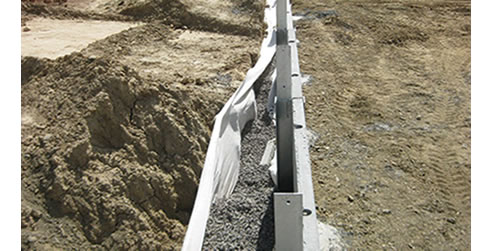 Concrib's concrete sleeper wall system was suited to the development for a number of reasons:
The system's narrow construction footprint used minimal space and kept the value of this land as high as possible.
The concrete sleeper wall's design and subtle wood grain finish meant the wall blended seamlessly with the land and contributed to the rural feel.
The wall meets AS4678, the Australian Standard for Earth Retaining Structures, which calls for residential retaining walls to have a design life of at least 60 years.
Fencing requirements were made simple with Concrib's standard 'fence connection'. Galvanised posts with lengths of steel extending at the tops meant the fence posts above the wall were easily attached.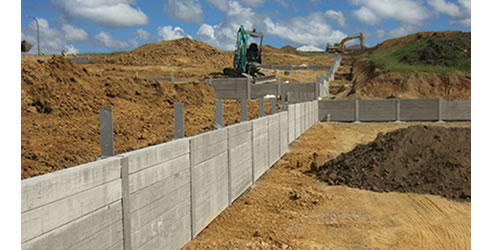 Engineered retaining wall that looks great and a lasts a lifetime
Concrib's sleeper wall system combines the aesthetics of a wood grain finish with the strength and durability of concrete. Unlike a wooden wall, it is termite free and will never rot.
Once in place the sleeper retaining walls can be painted in a wide variety of colours. We use a highly resistant specialist concrete sealant to ensure our sleeper walls remain aesthetically pleasing for years to come.
At Concrib, we understand your project requires an experienced team and high quality products. We have designed and installed a wide range of earth stabilisation systems for civil and building contractors, government authorities, architects and consulting engineers. To find the perfect retaining wall for your project, contact us or talk to a consultant today.