Gabion Structure Spillway Solution from Concrib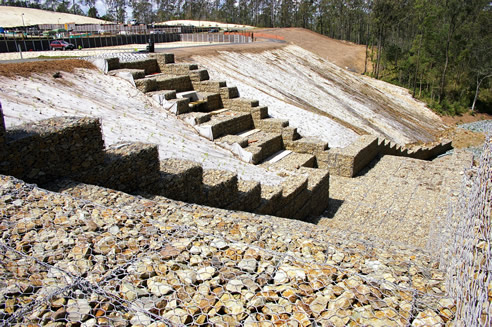 PROJECT PROFILE - BRENTWOOD GABION STRUCTURE
Located in a high growth corridor south-west of Brisbane, Brentwood Forest Estate has become home to thousands of new residents and households. Stages 20 to 24 of the development were recently constructed - from late 2015 and into the second quarter of 2016 - by BMD Urban Pty Ltd.
An essential part of the overall infrastructure for the community called for the efficient management of stormwater run-off; this was quite substantial due to the number of houses and the topography of the site. An integrated system comprising of an overland flow channel and three bio-retention basins collect run-off from the site. This flow would ultimately be directed to a natural overland flow path at the bottom of the site. The major issue presented here was the near 18 metre change in levels over approximately 65 linear metres, steep terrain indeed.
The development construction contractor, BMD Urban engaged Concrib to provide a complete turnkey design, construction and certification contract to offer a solution to the transport of the run-off and cope with a I in 100 flow event.
Concrib, working with ADG Engineers and Geoinventions Consulting proposed a massive gabion spillway and cascade drop structure to tame the flow. The solution also incorporated a gabion and rock chute at the base to discharge to the natural flow path. This truly impressive structure was constructed over a 12 week period.