Gabion Retaining Walls Repair Flood Damage from Concrib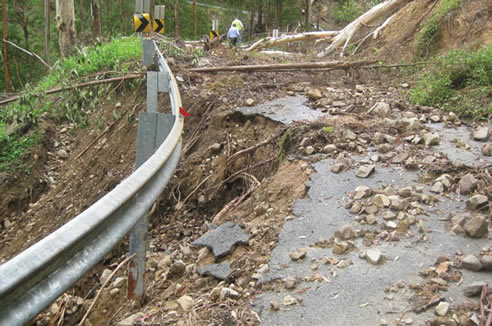 Disastrous Bellthorpe Range Rd damage is repaired with Concrib's gabion retaining walls.

In 2011 a 1.5km stretch of Bellthorpe Range Rd was severely damaged in the Queensland floods, cutting off Bellthorpe residents and surrounding farms. Concrib lent their retaining wall expertise to the major $4 million reconstruction which commenced at the end of that year. The program of work included restoration and rehabilitation of pavements, widening of the existing road reserve, drainage, batter stabilization and repairs to slip failures, with retaining walls both above and below the road. Concrib installed a total of 3,000 cubic metres of gabion retaining walls at nearly every landslip site. This provided long-term stability and excellent drainage, in both cut and fill situations. There were several reasons why Concrib's gabion retaining walls were an optimal solution for the restoration: Concrib's PVC-coated wire gabions and mattresses are particularly well suited for an extended life in harsh and corrosive environments. Concrib's gabions, rock-mattresses and rock fall netting are constructed from a woven mesh which provides the finished product with optimum strength and flexibility, and won't 'unravel' if the mesh is cut. Gabion retaining walls and rock-mattress structures are porous, to prevent the build up of hydrostatic pressure that may accompany future heavy rainfall.