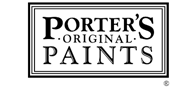 Company Profile
At Porter's Paints we offer our clients unique products for interiors and exteriors. Our traditional and modern paint finishes are all water-based, durable, easy to apply and made by hand.

While larger companies in the paint industry are constantly seeking to cut costs through cheapening formulations, Porter's Paints has never wavered from using only the finest raw materials.

Instead of mass-production through cheaper (often harmful) materials, Porter's Paints continues to make and check each and every batch of paint itself, thereby guaranteeing superior finish, depth and accuracy of colour.

Porter's Paints still makes paint and wallpaper by traditional methods and to original formulations, producing an unrivalled depth of colour. Our finishes have been created to ensure harmony and depth, whether inside or outside the home and regardless of style.

We have long been at the forefront of colour trends in Australia, and take pride in employing a team with a keen eye and innate love of colour.

Porters Paints Pty Ltd
02 9698 5322
895 Bourke Street, Waterloo, NSW, 2017
* If you would like to update the text on your profile page, please contact Spec-Net.