Low rise passenger & freight elevators - Microlift and Microfreight from Liftronic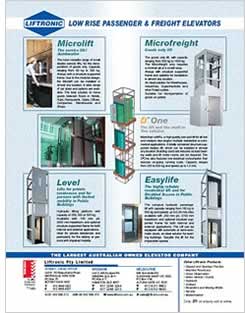 Microlift
The service lift / dumbwaiter. The most versatile range of small electric service lifts, for the transportation of goods only. Capacity ranging from 50 kg to 300 kg. Always with a structure supported frame. Due to the modular design, the Microlift can be installed in almost any location. A wide range of car sizes and options are available. The best solution to move goods between floors in Hotels, Pubs, Restaurants, Clubs, Offices, Companies, Warehouses and Shops.
Level
Lifts for private residences and for persons with limited mobility in Public Buildings. Hydraulic lifting platform with capacity of 250, 350 or 500 kg. Available with 100 mm pit, 2600 mm headroom and optional structure supported frame for both internal and external applications. Ideal for private residences and particularly for the elderly or persons with impaired mobility.
Microfreight
The goods only lift, with capacity ranging from 500 kg to 1500 kg. The Microfreight only requires a minimal pit or a small ramp. Always with structure supported frame and suitable for installation in almost any location. An ideal solution for Warehouses, Industries, Supermarkets and other Retail outlets. Suitable for transportation of goods on pallets.
D®One
The lift and the shaft in One solution. More than a MRL; a high quality, low cost lift for all low and medium rise single / multiple residential or commercial applications. Atotally contained structure supported traction lift, which can be installed in almost any location. Building costs are reduced as load bearing walls and lift motor rooms are not required. The D®One also features low electrical consumption that reduces on-going running costs. Capacity ranges from 250 to 630 kg and speed up to 1.0 m/s.
Easylife
The highly reliable residential lift and for Disabled Access in Public Buildings. The compact hydraulic passenger lift with capacity ranging from 180 kg to 550 kg and speeds up to 0.26 m/s. Also available with 200 mm pit, 2700 mm headroom and optional structure supported frame for both internal and external applications. The Lift can be equipped with automatic or semi-automatic doors, an ideal solution for existing buildings. Easylife the lift for the impossible spaces.
Other Liftronic Products:
Geared and Gearless Traction;
Machine RoomLess;
Glass Observation;
Motor Vehicle / Goods;
Hydraulic;
Inclined;
Escalators and Moving Walks;
Service;
Modernisation.