Reduce Metal Roof Rainfall Noise with Decidamp® SP80 by Pyrotek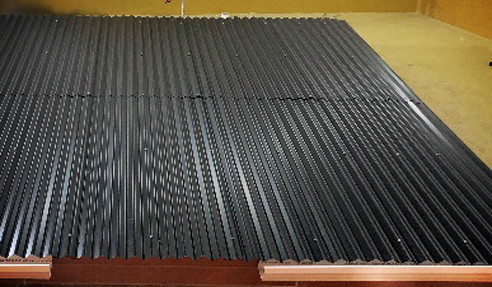 Decidamp® SP80 Attenuation of Rainfall Noise on Metal Roofing
The Challenges
Metal roofing is a popular construction material in many parts of the world, particularly in Australia, Asia and other areas of Oceania. With a variety of benefits, one disadvantage is its tendency to exhibit excessive noise during events of rainfall. This is primarily due to the minimal internal damping of metal roofing. The net effect is an increase in the noise level experienced within the interior of the building, particularly in the case of high rainfall rates, this can reduce speech intelligibility and cause disruption to activities such as sleep or any task which requires concentration.
Introducing an effective damping compound to highly resonant metal roofing results in the structure being less prone to excitation from rainfall impact, leading to a reduction in airborne noise. Decidamp® SP80 has been specifically developed for building and construction use. It is waterbased, easily sprayable and exhibits a high damping loss factor. It was tested on performance in this scenario when applied onto the rear side of the roofing panels at a dry film thickness of 1mm.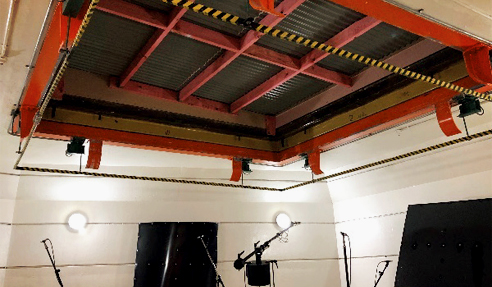 The Solution
The test results revealed that Decidamp® SP80 is highly effective in reducing rainfall noise and increasing transmission loss of metal roofing. With minimum treatment, the sound intensity has been reduced by 10-11 dB and transmission noise (Rw) improved by 5-6 points. Decidamp® SP80 is a viable solution on its own or as an element of a more comprehensive system when attenuating rainfall noise on metal roofing.
Independent testing was conducted to ISO 10140-5 at the University of Auckland. Improvement was recorded over the entire measured frequency spectrum across all results for both airborne and rainfall noise insulation.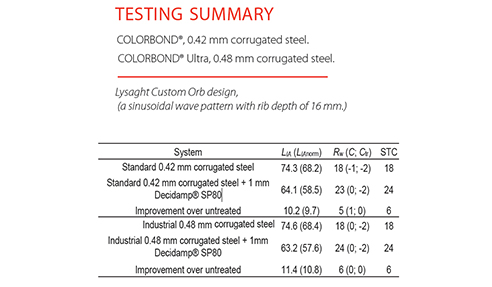 Decidamp® SP80 proved to be effective in reducing rainfall noise and increasing transmission loss when applied to the lower facing of corrugated metal roofing at a thickness of 1mm (dry film thickness).
Talk to Pyrotek to learn more about reducing metal roof rainfall with Decidamp® SP80 or visit www.pyroteknc.com.