Restaurant Acoustic Solution Case Study from Pyrotek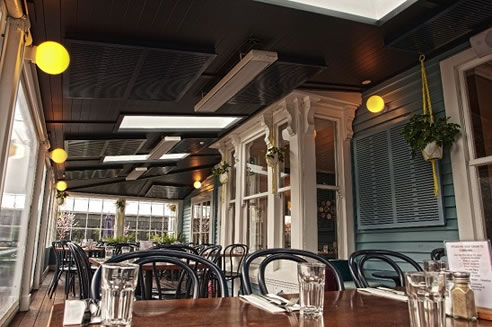 Echoush Acoustic Panels Successfully Manage the
'Café Effect' in Dux Dine Restaurant, Christchurch
Pyrotek Noise Control's Echohush range has a proven record of accomplishment in reducing noise levels in bars, cafés and restaurants. For example, Dux Dine restaurant, in Riccarton Road Christchurch, needed a solution to the noise levels in their hard-surfaced dining room, which was affected by the 'Café Effect'.
Campanella and Ryherd define the 'Café Effect' as noise 'generated by groups of occupants who subconsciously compete with the reflected noise from other groups of occupants who raise their voice such that they can be heard and understood by members of their own group.'
Christie's research (p. 15) into the Café Effect showed that, with an average reading of 65 dBA, restaurants had the highest average background noise levels, whilst bars and cafés had readings of 57.5 and 58 dBA respectively. All three of the average overall background noise levels in Christie's research were above the recommended maximums for building interiors as set out by Standards New Zealand at 50 dBA for bars and restaurants and 55 dBA for cafés.
The poor acoustic performance of bars, cafés and restaurants is often caused by the use of hard surfaces, such as concrete, tiles, glass and plasterboard-all materials that reflect sound energy around the room.