CSM Road Show 2018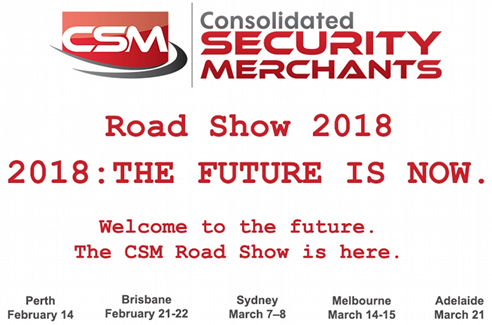 We invite you to come and see tomorrow's technology today in the world of security and automation solutions.
The CSM Road Show 2018 is an exclusive event to introduce our customers and key decision makers to our team of experts and vendors in their respective technologies.
The latest offerings include:
Security home gateways
Home automation solutions
IP + 3G Door opening solutions
Enterprise VMS + scalable integrated access solutions
IP intercom solutions
Leading edge CCTV offerings
Access Control with Mobile Access. SEOS, Biometrics and High Security Application solutions.
The event will feature:
Trade exhibition at each of our office locations with leading suppliers such as TVT, Honeywell, DDS, HID, Lockwood, BQT and many more.
Solve your security technology issues direct with our vendors and specialists.
Let us introduce you to our product experts and key suppliers to help win your projects.
Discover CSM's turnkey technology offerings
Live demonstrations and training.
Exclusive Expo Specials for all attendees.
Register and attend for a chance to win one of our many high valued prizes

Consolidated Security Merchants Profile
03 9558 8455
Unit 144, Axxess Corporate Park, 45 Gilby Rd, Mt Waverley, Melbourne, VIC, 3149