Silky Matt Natural Floor Coating from Polycure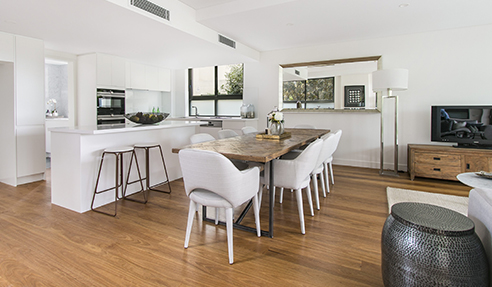 DURAPOL Silky Matt combines the natural beauty of a matt floor finish with durability and protection for peace of mind
Most people will tell you choosing the final gloss level for your timber floor mostly comes down to personal taste and preference. With that being said there is a whole host of information to help you make that choice based on the look, durability and maintenance of the coating. Lower sheen levels seem to be predominantly all the rage when it comes to flooring. Polycure's DURAPOL Silky Matt is a one-floor coating that will enhance the natural colour of the timber floor while providing a highly abrasion resistant and extremely durable surface at the same time.
Matt floor finishes are an increasingly popular choice for many homeowners with timber flooring. Not only does this style of finish provide a stunning, modern look, a matt floor finish will also protect timber floors from daily wear & tear, moisture, dirt, and aggressive foot traffic. DURAPOL Silky Matt is an easy to apply, re-coatable product (can be applied over itself - use as its own sealer) and is draft and heat resistant, ensuring the coating is easier to apply and flows and levels in a smooth finish for a floor applicator.
A matt floor finish is suitable for high traffic areas and children's rooms as matt floor coatings have the ability to better camouflage scruffs, scratches, dirt and debris. Matt floor coatings are not as reflective of light as higher sheen levels, so this choice of timber floor finish is ideal for anyone who does not want the hassle of a coating that requires more frequent application to keep the sheen looking mint. For added peace of mind DURAPOL Silky Matt has been evaluated for AS/NZS 4586:2013 Slip Resistance classification of new pedestrian surface materials by ATTAR and was classified as Dry = F for Dry Slip Resistance, and with the addition of Polycure High Grip Additive meets the requirements for AS/NZS 4586:2013 Slip Resistance for Oil-Wet Ramp Slide with an R = 12 classification.
Matt floor finishes work well in spaces that are more casual and complement the interior space with contrasting tones such as the natural beauty of Scandinavian styled homes.
Ultimately if you desire a hardwood floor that will stay looking new and fresh much longer, and is very easy to keep clean or perhaps not show up scratches, then consider a matt surface finish such as DURAPOL Silky Matt for your floors.