Timber for Major High-Rise Buildings from The Tilling Group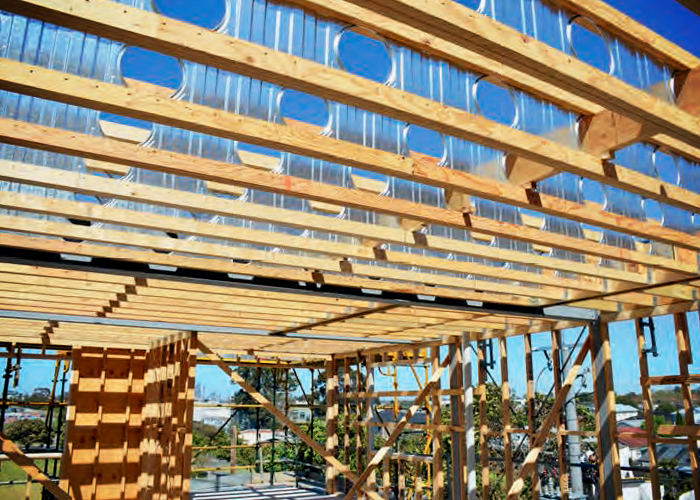 On the up - Part 2/4 - By Donyale Harrison, Timber Trader News, No. 402, January 2020
Timber is increasingly being used as a major material for mid- and high-rise buildings in Australia. We asked the experts what could speed up the transition.
Good Advice
"In 2016, the National Construction Code changed in our favour," says Laurence Ritchie, cost and program estimator on the Mid-Rise Advisory Program at WoodSolutions.
"Previous to that you could potentially build a range of projects in timber, subject to an often lengthy and complex approvals process reliant on test data. The approvals process for Forte required significant testing, and therefore incurred additional costs and use of resources. It was worth it as an experiment for a huge company like Lendlease, but it was inaccessible for smaller builders in the sector."
The 2016 NCC changes saw Forte, The Green and a couple of other early projects used as case studies in conjunction with overseas builds to justify a reasoning for allowing that style of construction. Instead of requiring complex testing for each build, a set of four main criteria were established and a deemed to satisfy solution - with the resulting easy sign off - could be achieved by building to them.
"The Mid-Rise Advisory Program was set up on the back of those changes," says Ritchie. "We started as a pilot program to get that knowledge out into the industry, because nothing happens if people don't know the code has changed. We made sure that the specifiers - architects, engineers and developers - actually knew they could be building these projects with timber; what the benefits were and how that might impact their projects."
Founded under and administered by WoodSolutions, the Mid-Rise Advisory Program is now no longer a pilot and was renewed for another three years in June. It runs under a joint funding model where 17 industry partners contribute to a central pot, which the Federal Government matches dollar for dollar.
Last May the NCC expanded the deemed to satisfy conditions, previously only applicable to Classes 2, 3 and 5, to all classes of building in Australia.
"Up till now, the focus of our work has predominantly been on the people who are the first decision makers, the ones doing that concept design," Ritchie says. "We try to make sure they design it for timber rather than beginning with a concrete design and then later deciding to change to timber - and then having it be a non-efficient design with problems that come with that.
"We've had very good brand penetration into those markets, so now we're moving across to the next step in that food chain, looking at builders, building surveyors, fire engineers. Essentially it's all the people who - after the idea to build in timber has been had - can veto it."
Conscious their funding is from multiple, sometimes competing commercial sources, and the public purse, the Mid-Rise Advisory Program doesn't promote any specific product or system.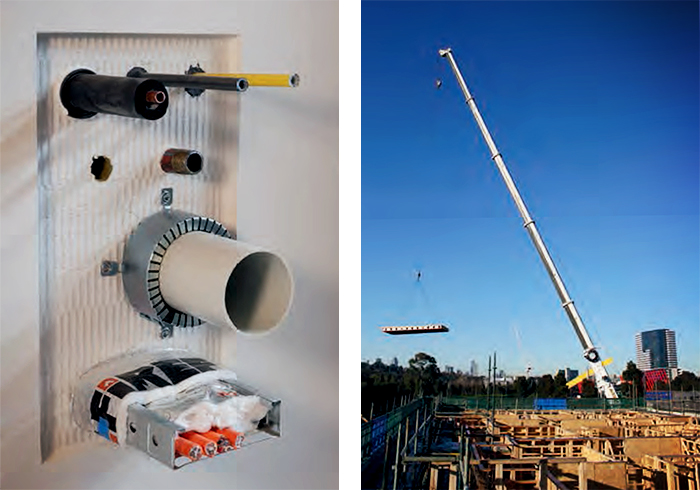 "We're just looking for the right solution," Ritchie says. "Sometimes light weight framing is the best option, sometimes CLT or glulam. And other times it's a mix. As advisors, we're now at a point where for more and more projects we can say that a fully optimised option would be a mix of products, using light weight where you need it and mass timber where you need it. But while that's the best-practice option, it really depends on the project team also getting to that point.
"Often the starting point for designers or builders is to simply say, 'we'll just use one system and we'll do it the whole way throughout. Easy.' And then a few projects later, they'll start customising and finding all those little efficiencies that are available."
The relationship between the Mid-Rise Advisory Program and industry works in both directions. The program disseminates research and testing, while relevant and publicly available real-world data from suppliers, builders and fabricators is shared in a bid to grow confidence in the use of timber and assure various regulatory bodies that it performs effectively.
Sometimes the shifts between the two sides are even more immediate. Architect Dr David Bylund was a member of the Mid-Rise Advisory team in its early days and Perth-based LVL manufacturer Wesbeam was a gold sponsor, which gave the company a seat on a quarterly committee listening to reports.
About halfway through the pilot phase, Wesbeam decided to move from this somewhat passive role to a more active one. Denis Cullity, Wesbeam's marketing director offered Bylund a role heading up a new, special division within the company that would focus on improving their part of the supply chain into the sector.
"At that point, they didn't know what it would look like or quite how that would impact their business model at the time," Bylund says. "So when I decided to take the opportunity, because it would allow me to develop Australian-specific systems rather than just stay in an advisory role, I proposed a division within Wesbeam specifically tasked with growing these opportunities, which is how Wesbeam Tall Timber Building Systems (TTBS) came about."
Although anchored within a material supplier, TTBS focuses on education, with multiple publications available for free download. Recently An Open Source Guide to the Wesbeam LVL Tall Timber Building Systems was released. It details not only the full specifications of Wesbeam product for ready integration into design models, but also mass timber design principles and connection details, etc.
Like the Mid-Rise Advisory Program, TTBS began by targeting specifiers. "They're still very important to us," says Bylund, "but we also talk with pre-fabricators, because they're a very important link between supply of the raw material and the knowledge around what to do with that raw material. And the third group we target is builders. I like to use the word 'montage', because it is an assembly process: they bring the different trades and skills together but it's all done around a prefabrication philosophy. They're working under the assumption that the building will be delivered with a fairly large component being manufactured offsite and then installed or assembled onsite. And that's a new philosophy, one where we can help with their education and show how prefabrication fits into their particular business model and delivery methods."
A hands-on example of this cooperation sits at Holmesglen Institute in Victoria. The Mid-Rise Demonstration Model is a threestorey build by WoodSolutions that incorporates multiple materials, connections, penetrations and building systems, fitting the equivalent of a seven-storey tower into its height. LVL and expertise from Wesbeam form part of the building, along with materials supplied by other WoodSolutions partners.
"I like to use the word montage, because it is an assembly process: they bring the different trades together around a prefabrication philosophy."
Click here to continue reading, On the up - Part 3/4, or for more information, visit www.tilling.com.au.
Click here to read, On the up - Part 1/4.