Floor Cassettes - Express Two Storey Living with Tecbeam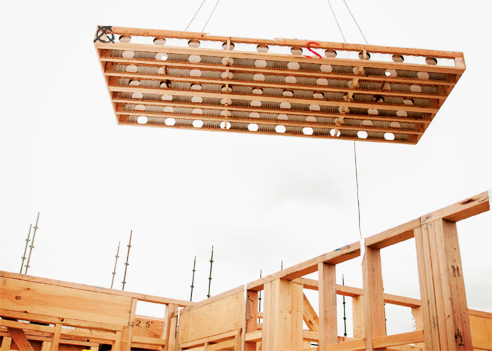 Proven Systems Now More Economical Than Ever
Construction delay is costly. Tight sites or limited access can impede trades using traditional methods of construction. Builders recognise that quicker construction, now possible with new building systems, can save both them and their customers time and money.
Express Two Storey Living, a division of Ventura Homes Group has now adopted Tecbeam floor cassettes for construction of their upper floors. Express is the first project builder in WA to use this construction system, which is lighter than reinforced concrete and allows for more flexibility in the design of upper flooring systems.
With Perth's block sizes getting smaller, the TECBEAM floor cassette system engineered from pre-fabricated timber and steel composite structural beams, is much faster to install than traditional methods.
So whether for multi-storey apartments such as "The Green" development by Australand or quality domestic projects, TECBEAM floor cassettes offer a great way to build.
TECBEAM produces the strongest floor joist in the Australian market. Affording longer spans and a faster build process, you can achieve exceptional quality floors with TECBEAM, and save with lower construction costs.