Timber Construction Projects with The Tilling Group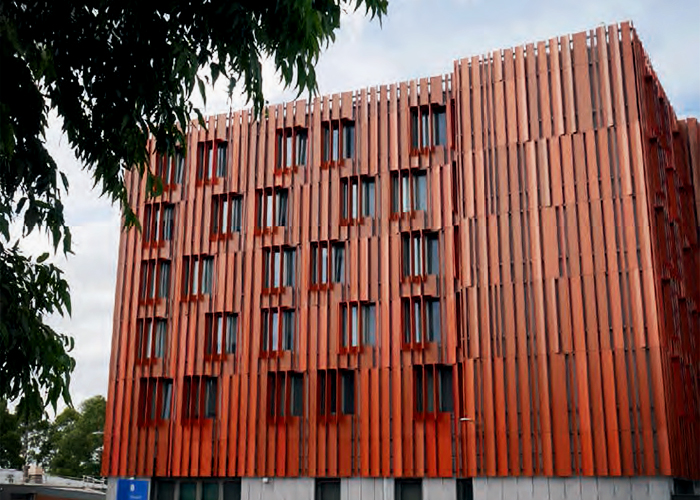 On the up - Part 4/4 - By Donyale Harrison, Timber Trader News, No. 402, January 2020
Timber is increasingly being used as a major material for mid- and high-rise buildings in Australia. We asked the experts what could speed up the transition.
Problems Have Solutions
Flagged as a salutary lesson by some, the demise of high-profile timber mid-rise company Strongbuild in 2018 was due to unique issues, but focused on cashflow.
"Cashflow is one of the two major barriers we see for fabricators," says Rossiter. "When you have someone who's specifically set up to do this sort of work exhibit that cashflow problem, some in the industry respond, 'Ooh, look, see, told you so!' But that's why firms like TimberTruss and Drouin West Timber & Truss in Victoria have been successful: they have enough backbone of other work to deliver the cashflow in one part of the business to prop up the longer-term projects in the other part of the business."
Because mid-rise projects can take months to finish, and the Australian payment model is on completion, fabricators can be left out of pocket for longer than they can bear.
"There needs to be a change of finance model and potentially a change of concept of ownership," Rossiter says. "It's going to be hard to sort out because it will mean builders paying for items they don't yet have."
The other barrier for fabricators is space, as these can be very large jobs with sizable components and many firms are running at or near capacity. Here design can come to the rescue, with a schedule such as the Inveresk build that takes each section of the build at completion and gives the fabricator space to start the next. Builders have also been reticent to move away from traditional materials.
"The industry typically has very low margins and can be risk averse," says Ritchie. "Even if it's the best product in the world, when we're bringing a new product, it's still an unknown risk to many builders. We're very fortunate to have a leader in the space like Lendlease. Recently Multiplex, another very big, tier one builder, has seen this as a space where they can specialise as well. They're into project number three in Melbourne and keenly looking to use timber wherever they can to differentiate themselves. Those companies have really acted as great case studies and a great precedent for the rest of the industry."
One factor that should help to entice builders is the superior safety of timber building models, especially panelised and modularised designs.
"Safety is probably the biggest driver in construction," says Ritchie. "Especially when you start looking at projects over $15 million. Safety eats up much of the costs for the builder - quite rightly, because every construction task is a high-risk task. So there is a huge benefit when you can have the majority of your work from a structural point of view completed in a factory and then crane and screw panels into place on site. Lendlease Australia has completed eight timber projects in Australia and they haven't had a lost-time injury (LTI) on any of those projects. Typically every traditional project in the mid-rise space will have at least one LTI due to the high risk."
Kay suggests easing builders into timber.
"We have to be practical. It may be that a steel skeleton for a building is the most efficient way to do it. But we could drop timber floor cassettes into that steel grid and still achieve significant program and cost savings for them. We're not going to say, 'we're timber building people, so unless you build it all out of timber, we're not interested.' Because 20% of something is something; 100% of nothing is nothing. We're better off doing 20% and letting people see how good the product is."
Bylund and Ritchie both agree that designers are already excited about the possibilities of timber.
"I've got an adjunct research position at UWA," says Bylund "and the other day one of my colleagues informed me that about 25% of the 2019 fifth-year architecture Masters theses involved mass timber building elements. It's moving towards what we would call normalised already. The new crop of architecture graduates will take a certain degree of knowledge into the industry - they'll drag the engineers kicking and screaming, but they will follow.
"It's definitely changing towards a much broader baseline of knowledge, similar to what we have with other materials. When I was an architecture student, precast concrete was just starting to come on and I remember learning about it and thinking, 'Wow!' The whole notion of creating a whole wall panel somewhere else, and putting up and having an instant wall just fascinated me. And now look at it, it's ubiquitous."
Bylund points to the considerable corporate knowledge in the sector that is growing day by day.
"Everybody is learning from each other, even high-performing companies in this space such as Lendlease, Multiplex, XLam and Wesbeam. And much of that knowledge is shared in a bid to grow the sector. I'm working on another open source design guide at the moment for light weight structures and, like the mass timber one, it will be a living and evolving document that people can comment on as well as use."
Overall, there's optimism tempered with experience among the people we spoke with.
"The intel we have from resources like the WoodSolutions design guides is great for helping build local solutions," Rossiter says. "In the longer term we're going to be building that style of structure and we already have the know-how and the supply side sorted. So now it's a matter of waiting for more brave fabricators - and builders - and when they are able to get in that space, it'll be waiting for them."
"Lendlease Australia has completed six to 10 timber projects in Australia and they haven't had a lost-time injury on any of those projects."
Talking with Ritchie about the list of fourstorey and more Australian timber buildings that forms the basis of the map included in this issue, he spouts off multiple reasons for why there will soon be more, from sustainability to cost, safety and speed of construction. And then he pauses.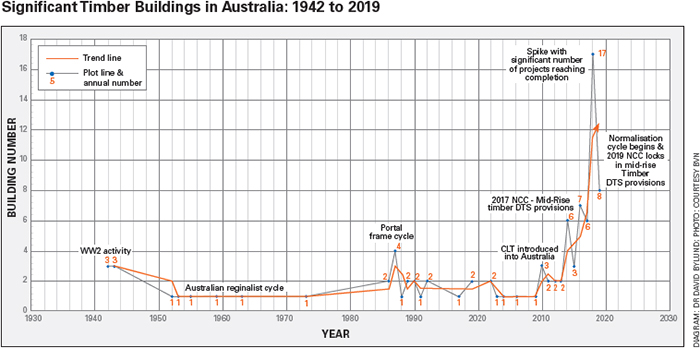 "Every six months or so, I hear someone say, 'this is the point where we've finally turned the corner and timber is becoming the standard,'" he says. "David Bylund's chart shows that we've had exponential growth recently. But in reality, there's hundreds of mid-rise projects in Australia completed every year. We're looking at 25 of them happening in timber this year. It will continue to increase, but it's still a small percentage of the total number."
He notes that confidence in the material is growing as more case studies are built and more research, such as fire testing, is disseminated.
"It's moving in the right direction," Ritchie says. "Everyone is working very hard to make sure timber becomes as close to a standard building material in the mid-rise space as it can be, but I think we've probably got a bit longer to go."
For more, visit www.akd.com.au, www.mitek.com.au, www.tilling.com.au, www.wesbeam.com, and www.woodsolutions.com.au/mid-rise. For more on early Australian timber building, see GB Nolan's The forgotten long span timber structures of Australia at utas.edu.au (search whole-Nolan-thesis).
Click here to read, On the up - Part 3/4.