Soundguard show how to stop noise floor-to-floor.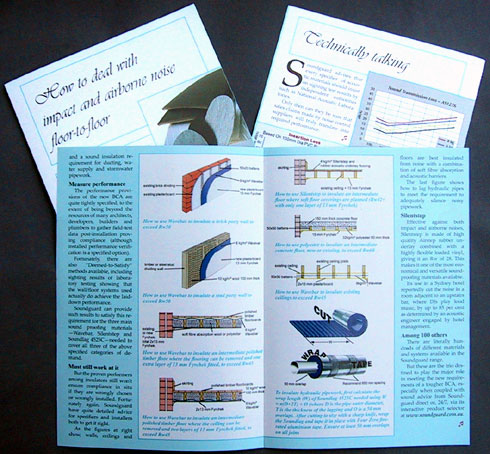 Knowing what product to use is one thing; but if no one tells you or your contractor how the manufacturer recommends it be installed, which this leaflet does, you might not get the soundproofing you expect.
Soundguard has published a free four-page leaflet, How to deal with impact and airborne noise floor to floor.
The leaflet outlines new demands for soundproofing laid down by the latest Building Code and gives specifiers technical details on three materials that fulfil those demands.
Further, it shows in detail how to install each of the materials, to insulate:
a brick party wall to exceed Rw50
a stud part wall to exceed Rw50
an intermediate polished timber floor to exceed Rw45
an intermediate floor where soft floor coverings are planned, to exceed Rw42
an intermediate concrete floor to exceed Rw60
an existing ceiling to exceed Rw45
gurgling bathroom, kitchen and laundry pipes.
In releasing the publication, Soundguard's Philip Cadwallen said: "Suppliers of soundproofing materials are quick to tell you which of their products to use. But if they fail to impart their recommendations as to how to install it, you risk not getting the soundproofing performance claimed for the product.
"This leaflet illustrates how you or your installer should go about incorporating key Soundguard products into a building to achieve the performance demanded by the Building Code of Australia for the most typical soundproofing applications in construction."
Specifiers may request a copy by calling the Soundguard hot-line 1300 136 662 or via www.soundguard.com.au.