Neilsens Concrete - reliable products and service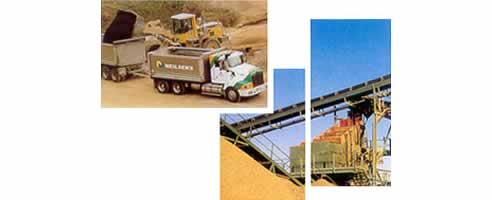 The company is family based in Brisbane, headed up by E.J. (Ernie) & R.M. (Ruby) Neilsen (The founders) with R.E. (Ray) Neilsen the current Managing Director. From our inception as a family owned and operated company in 1976, Neilsens Quality Gravels Pty Ltd, have adopted a policy of satisfying the customer by delivering a superior standard of service and product on time every time. A second quarry at Beaudesert commenced operation in 1997. Neilsens Concrete Pty Ltd began trading at our Brendale quarry site in 1993. In 1997 an additional concrete batching plant began trading at Carole Park. A concrete plant at Windsor is in the advanced stages of planning.
The quality and reliability of our products and service are the concern of every person in the organisation. This begins when the customer makes first contact with our sales teams. It also comes from the level of knowledge all our dispatch and administration staff have. In an industry dealing with the public, product knowledge, experience and servicing skills are the criteria by which we should be judged. Our testing and technical support laboratory is located at Carole Park. This laboratory is a registered NATA site.
In every year of operation, the group has continued to grow to become one the largest independently owned quarry operations permanently based in Queensland. The group currently runs a fleet of 24 concrete agitators and 2 company truck and trailer. Sub contractors, painted company colours carry the quarry products.