New Somfy Pro Website, Dedicated to Somfy Professionals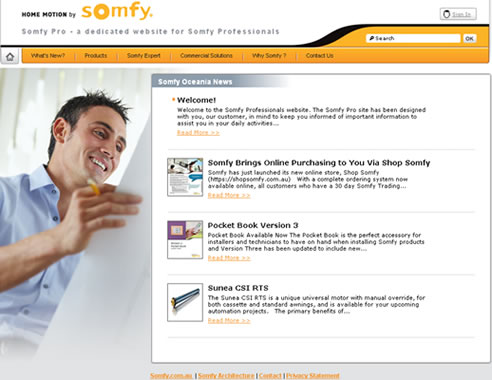 Completely redesigned and returning with a new look packed with extra features, Somfy Oceania's new Somfy Pro website, which is dedicated to Somfy Professionals, was launched on Tuesday 18th March 2014.
As part of our commitment to enhance the quality and availability of information, the new Somfy Pro website has been designed for easy access to Somfy's most important support tools in the one dedicated space.
The Somfy Pro website will keep pace with the constant advancements experienced in our industry, with the introduction of Somfy's:
Extensive online product catalogue
Technical support tools
Brochures and marketing material
Visit the new Somfy Pro website and give us your feedback on the new website by filling in the Contact Us form.
The Somfy Pro website is located at, www.somfypro.com.au