Sandstone Look Concrete Steps from Outback Sleepers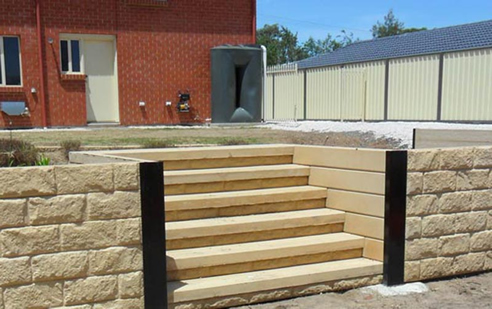 Cove Steps from Outback Sleepers are produced as a kit. Get the look of sandstone steps for your next landscaping project without the associated costs. Outback Sleepers concrete steps come in a variety of colours and textures and are designed to match their concrete sleeper retaining wall systems.
One step layer is 200mm high, this includes 2 x sides, 2 x treads and a crib (the crib will match the pattern of the sleeper), they are the same height as a sleeper and they come in the colours that the sleepers are available in.
You have an option of a 2.4m wide step kit (2.2 opening), 2m wide step kit (1.8m opening), and 1.2m wide (1.0m opening)
They are available as a kit that starts at 1 high (200mm high) to a 6 high (1.2m high).
If you require higher steps you can increase the step height from 1.2m by using another step kit to make the heights you require, this will require extra step treads to continue the steps.