Concrete Sleeper Range Launched by Outback Sleepers Australia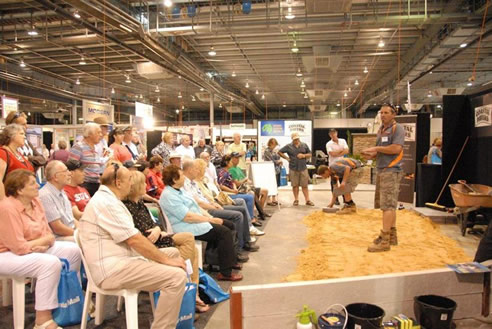 Outback Sleepers Australia have just launched their new concrete sleeper product line the 'Designer Range' at The Adelaide Home Show, which took place from October 19 to 21. The new concrete sleeper range incorporates an innovative inlay system which enables you to choose from a variety of different inlays to stylize the look of your retaining wall.

The new range contains a number of different coloured and patterned concrete sleepers, and the complimenting inlays to choose from are numerous. From a bookleaf texture to a smooth stone pebble look - whatever your landscape requirements, there is bound to be a new style that will suit your project. The designs are Registered Designs and are the brainchild of Outback Sleepers Owner and Director Michael Ineson. The evolutionary inlay system takes landscaping to a whole new level and will surely change the face of landscaping design in Australia. Brochures are available for download. The launch at the Adelaide Homeshow was a total success. Hundreds of people turned up over the weekend and viewed the joint display set up by Outback Sleepers and other local Lonsdale business 'Coastal Pavers'. Crowds turned up daily to be seated for the live paving display performed by Ben of McLaren Vale Paving and Landscaping. Ben's paving skills turned out to be the hit of the weekend and a huge thank you is extended to Ben for his kind assistance with the day.