Timber Beam Curved Ceiling Feature from Supawood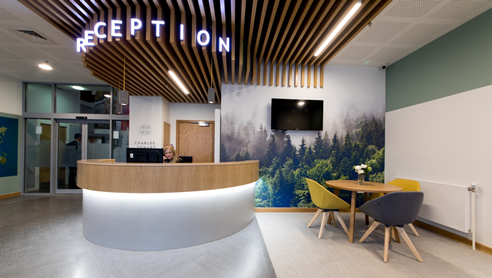 Maxi Beams make big statement in reception area
The welcoming reception area of the recently refurbished Charles Stewart House at the University of Edinburgh is dominated by a striking curved ceiling feature created with bespoke SUPAWOOD lightweight MAXI BEAM.
The design intent included the creation of a dramatic beam raft with a stunning 550mm tall curved frontage. This called for an adaptable beam system which could also incorporate lighting. SUPAWOOD UK recommended to the designers Maxi Beam for its light weight and ability to achieve the design intent.
It was essential that the designers respect the heritage listing of this 1875 circa building while bringing its functionality into the future. Because Maxi Beam is so lightweight and supplied prefinished as specified, it provides unparalleled artistic scope for the creation and speedy installation of unique beam features on existing ceilings without the need for a complicated structure.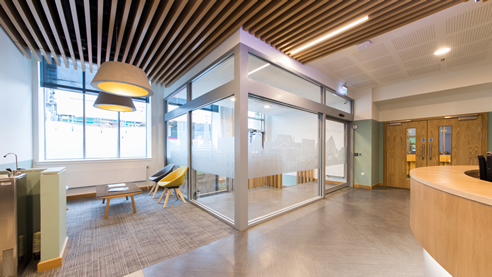 The beams flow from reception desk across into a relaxing seating.