Textured Metallic Three Dimensional Wall Panels by 3D Wall Panels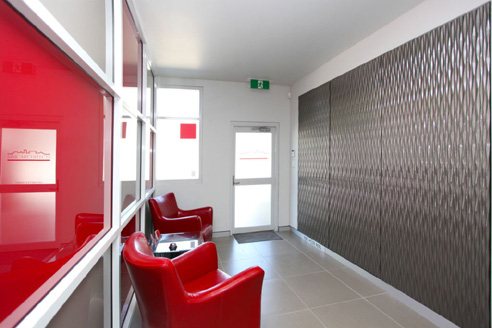 Thanks to 3D Wall Panels™ every work space can have a silver lining
MSK Architects moved into a new building in Dural and wanted several feature walls to infuse the space with a luxurious feel, while fulfilling practical needs as well. They chose 3D wall panels™ in the "Ripples" design with a silver metallic polyurethane finish.
The benefits for MSK Architects have been:
A 'wow' factor that inspires curiosity
One feature of metallic paint is that it contains shiny specs that reflect the light, so that, together with the 3d effect of the panels, adds a further facet, even a slightly holographic effect.

"Everyone who comes in the office notices the panels and they all want to touch them," says Esteban of MSK Architects. "It's because they are not sure if they are some sort of visual effect or optical illusion or if they are really three dimensional. It's something that most people have never seen before and they are really impressed".

Stylish décor that elegantly conceals storage
The panels are also used as doors so that power boards, switches and fire hose reels can be easily accessed, while being hidden behind a stylish facade. The 3D Wall Panels™ are also right next to the entry doors, so they conceal the storage of umbrellas and other items.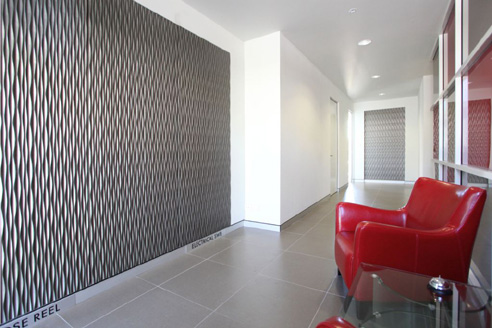 A brighter and more vibrant space
The finish that MSK Architects chose for the panels is "Stainless steel shimmer" metallic polyurethane paint. As some of the panels are located in an area where there is not a great deal of light, this shimmer creates a luxurious feel that brightens the mood as well as the room.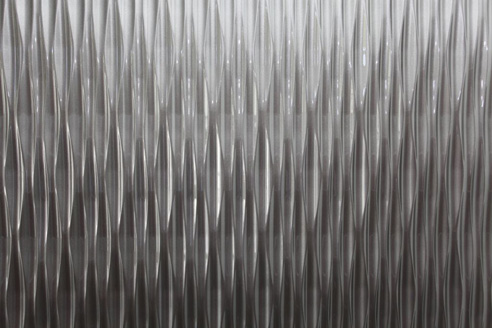 3D Wall Panels™ also feature on: the Today show, Mornings with Kerri Anne and the Footy show
To see more of our 3D Wall Panels™, simply watch:
The Today show on channel 9
Weekdays from 5.30-9am.
Weekends from 7am.
They've used the 3D Wall Panels 'Waves' design.

Mornings with Kerri Anne on channel 9
Weekdays 9 - 11am.
Saturdays 9-11am.
They've used the 'Flow' and 'Waves' designs.

The Footy Show on channel 9
Thursday nights at 9:30pm.
They've used the 'Honeycomb' design also in a silver metallic finish.
Want to find out more about 3D Wall Panels™?
You too can create a stunning space with 3D Wall Panels™. For a quick and easy design solution, contact 3D Wall Panels™ on (02) 9725 4222, or visit www.3dwallpanels.com.au.
For Australia wide delivery only. If you have a tight deadline, we have a short lead time!