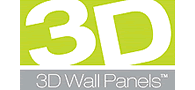 Company Profile
At 3D Wall Panels, our passion is to help people create stunning feature walls for their home or business, allowing them to express their personality or brand through their choice of pattern, colour and finish. Proudly Australian owned and made, the team based in our Sydney factory work tirelessly to provide affordable, environmentally-friendly panels that add an instant WOW factor to any room.

3D wall panels are a natural crowd pleaser. Customers all over Australia are using our panels in commercial, retail, hospitality and residential settings, either as feature walls, kitchen island fronts, bar fronts, bedheads, artworks and more. Our company is growing daily and has been privileged to be featured on sets of some of Australia's favourite TV shows such as The Today Show, The Footy Show, Australia's Top Model and Mornings with Kerri Anne.

Contact our friendly team today to find out how you can instantly spice up your space.

3D Wall Panels
02 9725 4222
80 Redfern Street, Wetherill Park, NSW, 2164
* If you would like to update the text on your profile page, please contact Spec-Net.