Controlling Noisy Classrooms with Acoustic Panels Sydney from Pyrotek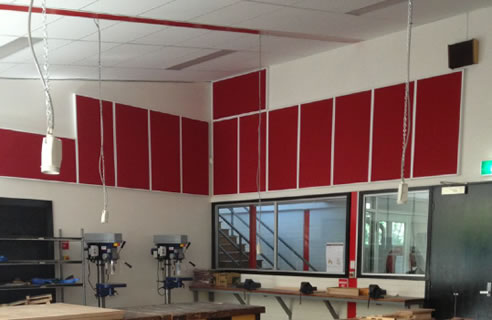 Active learning produces unwanted noise
The woodwork room of this learning facility is well equipped with hand tools and machinery, but as a result, the noise generated in this space was excessive.
Noise is created by woodwork tools (hammers, drills, etc), general clutter of equipment and loud speech levels by teachers and students. Noise reverberation within the woodwork classroom was excessive, making teaching and learning difficult. Noise was also being transmitted into the music room opposite, impacting classes, tuition and rehearsals.
Pyrotek was commissioned to investigate the issue and propose a noise control solution.
Sound Proofing absorbs noise energy
In the untreated classroom a lack of absorptive materials on walls and ceiling allowed the noise energy to build to a level where speech could not be heard clearly. The excessive noise energy was transmitted outside the woodwork room into nearby spaces, including the music room.
The absorptive material used was Sorberpoly 2D with a Metallic Red Fabric finish. Sorberpoly is a fine fibre, non-woven polyester useful in high humidity applications. It is fuel, oil, and grease resistant and also non-wicking - ideal in this application.
The Sorberpoly was framed in 1.2 m (3.94 ft) x 0.6 m (1.97 ft) aluminium frames, installed approximately 2m from the floor and away from active work benches to prevent damage. The wall and ceiling panels not only control noise, they enhance the décor of the room.
Better Sound Proofing reduces noise and aids learning
To measure the effectiveness of the noise control treatment, the frequency response of the classroom was measured before and after the installation. A sound impulse was generated in the classroom and the decay in reflected energy measured across a frequency spectrum.
Ideal reverberation time for speech in classrooms is between 0.4 to 0.8 seconds.
Before the sound absorption was installed the reverberation time was 1.4 seconds; after installation it fell to 0.6 seconds. The improvement was most noticeable in the frequency range of normal speech; 250Hz-4000Hz. This results in much better speech clarity for both students and teachers.
Improving the acoustic characteristics of the room with ceiling tiles and wall panels absorbs significant amounts of sound energy, reducing noise transmission to the opposite music room. Teachers and students in both the woodworking and music rooms appreciate a more productive learning environment.