Noise Curtain for High Impact Noise Wavebar from Pyrotek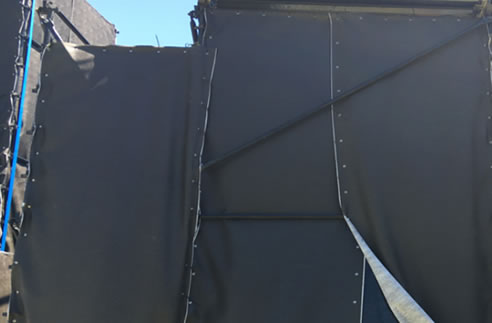 Wavebar - Innovative noise curtain for high impact noise in residential applications.
Noise regulations and urban density means that non-technical guidance to help navigate council regulations and manage noise to avoid complaints from neighbours is a hot topic. Large scale events in urban hubs now occur in cities and local communities over just about every season and occasion. Permanent and temporary consideration for controlling the impact from amplified music, incidental noise, truck and warehousing docks and other community noise sources is a reality in many neighbourhoods.
Noise control solutions may seem costly and complex, however, often a simple curtain constructed from the right material will be a highly effective barrier for the issue, and also give visual reassurance that you are considerate and doing what's required to address the commotion.
Useful in commercial sites, hospitality, entertainment and areas where residential properties are in close proximity to large or industrial noise sources, simple temporary fencing can be faced with mass loaded vinyl with minimum fuss, and quick install time.
With high tear resistance, high tensile strength and different weights available, the product is easily cut to shape and suitable across a number of applications.
Noise curtain acoustic solutions will also effectively protect residents from construction noise. A number of mass loaded vinyl options are available to suit different applications.