Anti-Microbial Engineered Stone Surfaces from TREND Group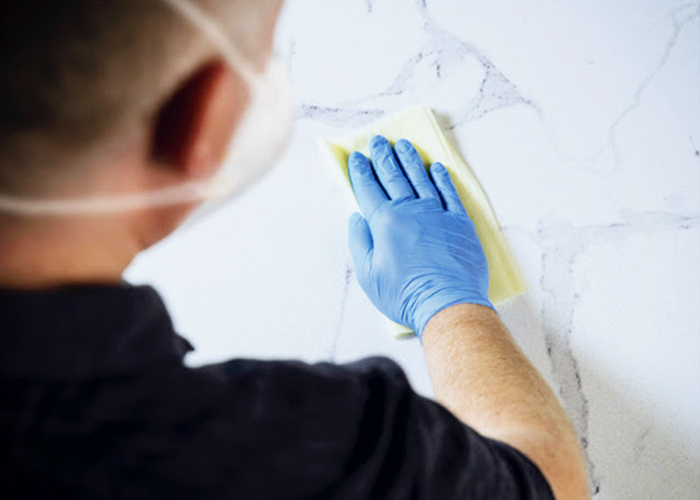 TREND Group & RockSolid Granit North America introduce their anti-microbial enhanced etherium™ by E-Stone engineered stone surfaces - providing key benefits important to consumers today! The companies, along with manufacturing partner E-Stone USA Corporation in Sebring (FL), introduce their antimicrobial blended etherium™ by E-Stone engineered stone surfaces made for commercial/residential construction and renovations.
Not since the last world war has the world seen such a shift in how businesses function and produce products to combat a global threat such as the Coronavirus. However, always ahead of the curve, the vertically integrated TREND Group company comprised of a franchise system, manufacturing division, and sales organisation, has spent 20 years dedicated to producing products that not only promote sustainability but also provide anti-bacterial benefits.
Etherium™ by E-Stone surfaces are anti-microbial, non-porous and mould and mildew resistant which helps prevent the spread of germs. The newly enhanced antimicrobial agent now blended into etherium™ is taking germ and bacteria resistance to a heightened level which is now more important than ever.
TREND Group and RSG recently donated antimicrobial etherium™ by E-Stone folding tables to hospitals setting up field hospitals and COVID19 testing stations throughout Miami-Dade and Broward, in Florida. These tables are made of a unique blend of reconstituted materials which are then mixed with an antimicrobial agent to increase emergency response personnel and patient safety.
As the Coronavirus continues to evolve we anticipate that consumer confidence will only be attained through offering products with key benefits that are important today.
TREND Group and RockSolid Granit believe etherium™ by E-Stone products will continue to find their way into homes, hospitals, and commercial projects worldwide. For more information please click here or visit trend-group.com.