Restaurant Acoustic Solutions from Pyrotek Noise Control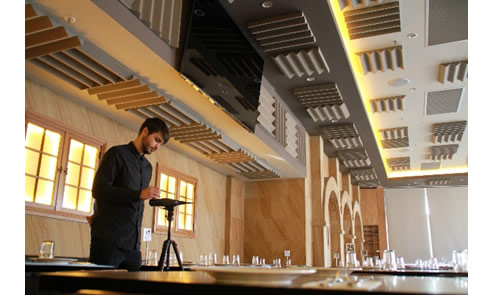 Al Aseel Restaurant
According to a 2013 opinion poll conducted by goodfood.com.au answering the question "Are noisy restaurants a turn-off?" 83% of 3413 respondents believe "yes a noisy restaurant does detract from a dining experience".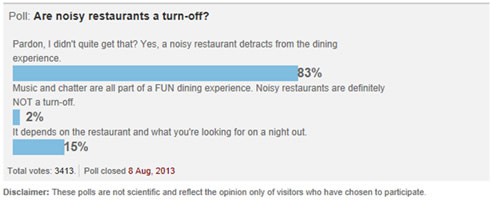 1 - Cornish, R 2013, 'Din and dinner: Are our restaurants just too noisy? goodfood.com.au
Mr Ahmad Harb of the Al Aseel restaurant chain engaged the services of Pyrotek Noise Control to try to solve the loud noise issues diners were experiencing in the restaurant located in Wollongong.
Mr Ramu, manager of the Fairy Meadow restaurant, commented; staff and diners had found the reverberation (echo) noise of the busy dining area was distracting and communication was difficult. Background noise levels were so high normal conversation was difficult.
Initial testing conducted by Pyrotek's acoustic engineers revealed a reverberation time of 3.0 seconds, which was well above the Standards Australia (2000) recommendation for restaurants of <1.0 seconds.
The restaurant was demonstrating symptoms of the 'café effect', which according to Campanella and Ryherd (n.d.p, pp. 1) is:
"The tendency inside a reverberant space for noise to 'breed' noise. Generally, noise is generated by groups of occupants who subconsciously compete with the reverberative noise from other groups of occupants, who raise their voice such that they can be heard and understood by members of their own group"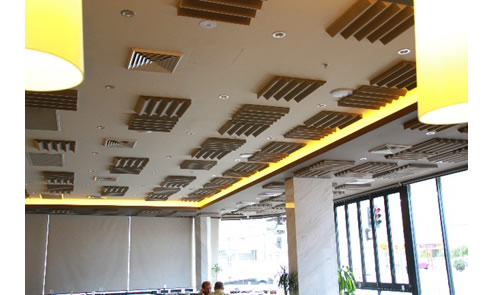 The construction of the restaurant which included hard tiled floors, approximately 50% glass walls, hard sandstone features and plasterboard ceilings provided the main facilitators of the problem. To combat the reverberation, Pyrotek Noise Control's Commercial Specification Manager, Bruce Hermes recommended the installation of sound absorption materials in the form of Pyrotek's Echohush Profile Panels.
Echohush Panels were the ideal solution as they are:
"Custom-coloured, combustion-modified acoustic foam panels that reduce noise levels in high energy spaces such as cafes and bars, and improve voice clarity in key communication rooms" Pyrotek Noise Control 2014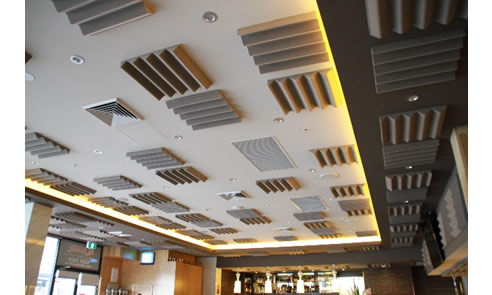 Pyrotek was able to offer a customised solution for the restaurant, as the Profile panels were able to be flock coated in custom Mocha and Sand colours, which blended seamlessly with the restaurants current décor.
Mr. Jan Munzer, of Action Soundproofing, who designed the lay-out and strategic positioning of the Echohush Panels, commented that the panels were easy to install and that Pyrotek was prompt with the supply of products for the installation.
Post-installation testing showed that the reverberation time had reduced to 1.5 seconds, which showed a 50% improvement. Campanella and Ryherd (n.d.p, pp.2) state that:
"When sound absorption is added to a room that experiences the café effect the amount of ambient noise reduction observed is actually greater than that which is calculated. This increased reduction is because of the regenerative nature of the café effect...absorption reduces the background noise, so less speech effort is needed and therefore the overall noise level becomes even lower".
Following the installation the restaurant ambience and customer comfort levels have greatly increased.
Pyrotek's Profile Panels were able to combat the 'café effect' using its industry-leading sound absorption materials to provide an improved dining experience for restaurant diners and staff.
Appendix

Reference List
1. Standards Australia, 2000, 'Acoustics - Recommended design sound levels and reverberation times for building interiors', Standards Australia, Report, retrieved 30/04/2014
2. Cornish, R, 2013, 'Din and dinner: Are our restaurants just too noisy?' goodfood, retrieved 29/04/2014 http://www.goodfood.com.au/good-food/food-news/din-and-dinner-are-our-restaurants-just-too-noisy-20130805-2r92e.html
3. Pyrotek Noise Control, 2014, 'Echohush Profile', retrieved 30 April 2014, http://www.pyroteknc.com/custom-painted-acoustic-foam-panels-echohush-profile.html