Real Flame Architectural Design Award for Gas Fireplace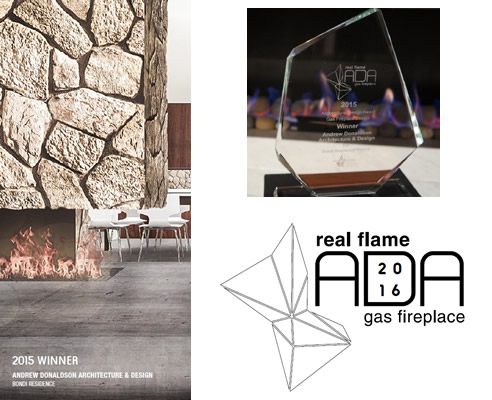 REGISTRATION NOW OPEN FOR ADA 2016
WIN A SHARE OF $18,000 IN PRIZE MONEY
FOSTERING INNOVATION WITHIN THE AUSTRALIAN DESIGN INDUSTRY.
The Real Flame Architectural Design Award for Gas Fireplace (ADA) was created to foster innovation within the Australian design industry. The competition is open to all practicing and student architects and designers within Australia.
Design excellence complemented by sound research, unique application of product and innovation are the key elements that are judged.
The entries can be actual projects or imagined and must meet the minimum criteria as set out in the competition panel. A submission can be rejected if it doesn't meet the minimum criteria.
PROJECT BRIEF
This should outline the client requirements including the type of fire required, chosen from purely decorative, heating, or a bit of both. The application of the fire, whether residential or commercial, the internal finish being modern, contemporary or traditional. Technical research including flue and ventilation requirements, clearances and construction restraints. The fire should be selected from the current Real Flame range.