The Decorative Fireplace for Summer from Real Flame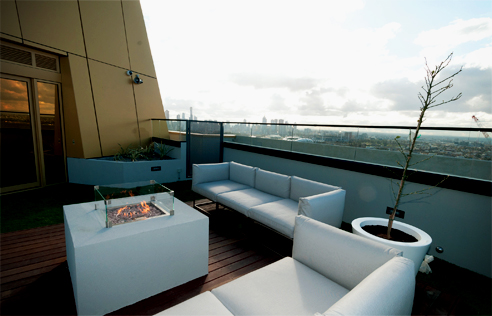 With spring already here and summer closing in fast, the last thing you probably think your home needs is a fireplace, right? Well if you're thinking about one that is designed to generate serious heat, then yes it's a ludicrous suggestion. But fortunately, we aren't! Instead we are talking about decorative gas fires - the latest must-have interior or exterior accessory.
Aside from warmth, it is the relaxation and entertainment that comes from a fire, that people truly desire. As the name suggests, decorative gas fires are not designed to warm a space, but rather to create an ambience and atmosphere in your living room or entertaining area.
Jeff Collins, national sales and marketing manager of Real Flame, reveals that half of the company's clientele opt for the 'decorative option' hearth and that number continues to rise.
"A lot of homes these days are designed with hard surfaces - such as tiles and timber - and they are psychologically cold. Our decorative gas fires create a feeling of warmth and romance," he explains.
"Gazing into a fire relaxes you. Customers tell me all the time they want a fire because it provides entertainment. I love it, the flickering flames are much more enjoyable than TV!"