Decorative Adhesive-Free Smooth Flooring - Cantata by Altro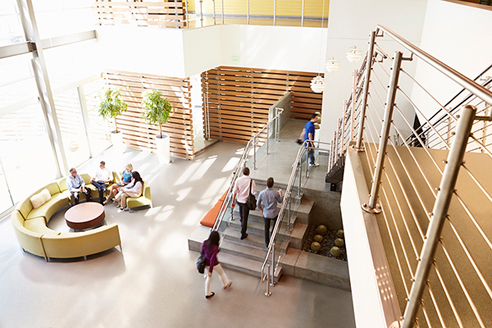 Hit the right note with Altro Cantata™. Maximum impact, minimum downtime.
Altro Cantata is a decorative, adhesive-free floor that uses the same installation method as the award-winning Altro Xpresslay.
Altro Cantata is a compact 2.2mm floor which boasts a smooth finish. Available in 16 shades ranging from subtle natural tones to vivid colours, it has been designed to set the tone for a whole range of environments. This includes corridors in hospitals and residential care homes, plus corridors and general circulation areas in education buildings. The attractive, soft-look shades also make Altro Cantata an ideal choice for patient rooms within hospitals.
As well as creating stunning surroundings, Altro Cantata is installed without using an adhesive, making installation time, and the disruption that goes with it, minimal. In fact, using Altro Cantata can halve the time of a traditional installation! Not only this but there are no adhesive odours, plus it's easy to clean, helping maintain both hygiene and looks.