Commercial Kitchen Flooring Case Study from Altro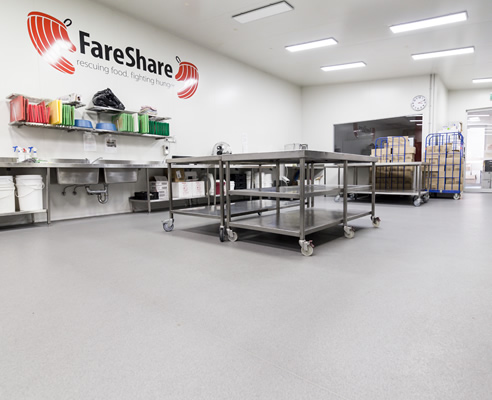 Designed for possibilities. Made for people.
Case Study: FareShare
Location: Abbotsford, Melbourne
Product: Altro Stronghold 30/K30 & Altro Walkway 20/VM20
Quantity: 450m2 & 150m2
Installer: Mr Carpets
"We were after a floor that we could put down and not have to worry about. Altro has been everything we were after in a floor and lives up to all our expectations. It looks great, cleans easily and provides the safety needed in a busy commercial kitchen." - Chris Mitchison, Kitchen Manager, FareShare
Every year, two million Australians will experience hunger. But, over the same period, we'll also waste 200kg of food for every man, woman and child in the nation.
This doesn't make any sense. Melbourne food charity FareShare is doing something about it by rescuing surplus, quality food from supermarkets, farmers and other businesses.