Sloped Permeable Pathway for Mosman Residence by StoneSet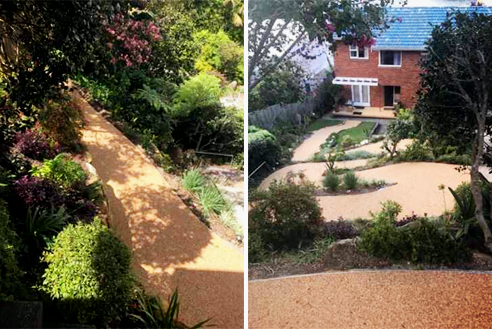 In some Sydney suburbs, such as Mosman, homeowners have to deal with sloping blocks, which brings many challenges especially when it comes to an aging population who no longer wish to leave their homes. To help improve usability for persons with limited mobility, swapping steps for a ramped pathway can be an ideal solution. However, with steep slopes and a loose gravel finish the surface can quickly become washed away, unusable and unsafe.
Our clients goal was to "match the decomposed granite that is currently down but with maximum non-slip surface that is level and essentially bound/fixed rather than the existing loose rough surface."
The deco granite pathway provided the perfect base for the StoneSet material, a 6mm Yellow Sienna crushed rock was used to provide a beautiful natural looking pathway, similar in colour to the deco granite but with great slip resistance and no loose stone, no wash out in the rain and a smooth and easy to traffic surface.
Discover more at stoneset.com.au.