Porous Pathways for Rockhampton Botanical Gardens by StoneSet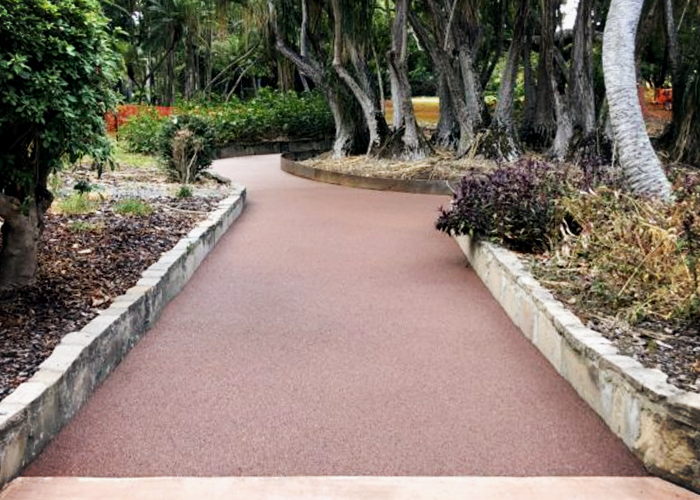 December 2020: StoneSet were thrilled to be specified by the Rockhampton Botanical Gardens for the installation of their high-performance porous pathways. Over 190 square metres of porous paving in Kirribilli Red (a variant of Glensanda) was required, not only to provide a safe, sustainable pathway for visitors, but to boost the longevity of and preserve surrounding flora.
Rockhampton is a subtropical area with significant amounts of rain expected to fall as Australia observes a La Nina weather pattern. Therefore, replacing the Garden's non-porous pavement with a StoneSet porous surface, means that surface water is effectively absorbed into the ground beneath the pathways and into the garden beds, instead of spilling into stormwater or wastewater systems and being removed - even overwhelming these systems. Furthermore, when compared to a permeable solution, porous paving from StoneSet is resistant to the accumulation of dirt and debris that can cause disintegration of the pathways over time.
The upgrade of the Rockhampton Botanical Gardens' pathways with StoneSet's porous pavement was praised by the regional council, who loved the idea of conserving the water onsite. StoneSet's Queensland installers, Heritage Tree Care also successfully installed porous tree surrounds that would assist in the preservation of the Garden's 100 year old trees. The rouge colour was purposely chosen to complement the historic site. Not least, StoneSet's porous surfaces are able to withstand garden maintenance vehicle traffic (up to 800kg) and require minimal care for long-term cost savings.
For more information regarding these porous pathways for the Rockhampton Botanical Gardens from StoneSet, visit www.stoneset.com.au today.