Wet Area Internal Lining Design & Supply by Atkar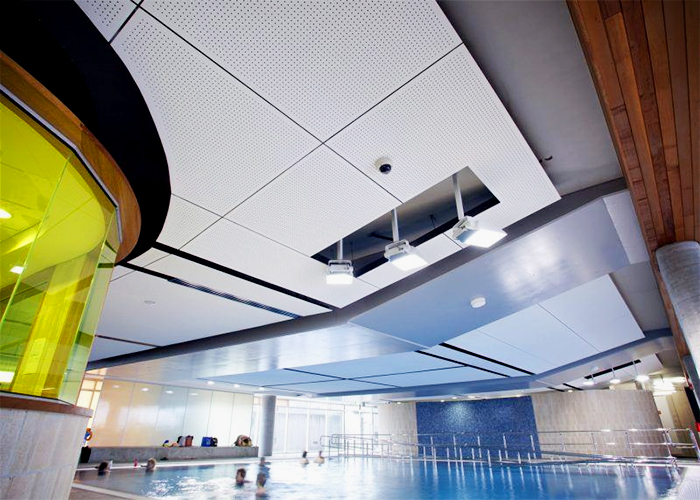 Achieving great ceiling design in wet areas
Wet and humid environments like indoor pools, gyms, and saunas require special consideration when selecting internal linings, as extensive exposure to moisture increases the likelihood for movement in the ceiling. Many products are not able to withstand these sorts of damp environments, so it is important to select the right one. However, if you want something that offers a more exciting aesthetic than just basic compressed sheeting, or if you need some effective acoustic control, then keep reading. The team at Atkar Group are here to provide some ideas and inspiration for your next 'pool room'.
Not just compressed sheet...
The most popular choice is fibre cement as it is the ideal product to withstand the hostile mix of humidity and chlorine over an extended period of time. It is also unaffected by steam, moisture, sunlight, or vermin for that matter, and has excellent water-resistant properties making it ideal in harsh environments. However, basic fibre cement sheeting may not suit your design vision. So what other fibre cement options are there?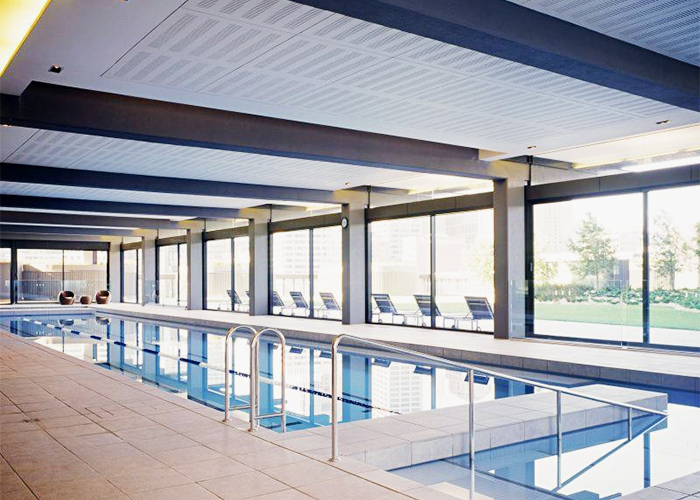 Atkar offer many fibre cement products in our Architectural Linings range that are not just fit for purpose, but are also stylish, modern, and cost effective. Atkar Au.diLux (perforated fibre cement) and Au.diVent (slotted fibre cement) are both easily incorporated into a wide variety of wall or ceiling systems, and are suitable for curved surfaces plus a square or recessed edge. They can be fully customised to suit special width sheets and have a variety of jointing options to make installation easy.
In addition, Atkar are also key distributors of Cembrit Through Colour Fibre Cement made by one of Europe's leading manufacturers. This product offers a unique coloured fibre cement façade that is not only beautiful but easy to install.
Is there an echo in here?
Maintaining effective acoustic control in wet areas is also an important component to most projects. Au.diLux and Au.diVent ceiling panels combined with our patented Sonus Acoustic Backing can be used to substantially cut down reverberation.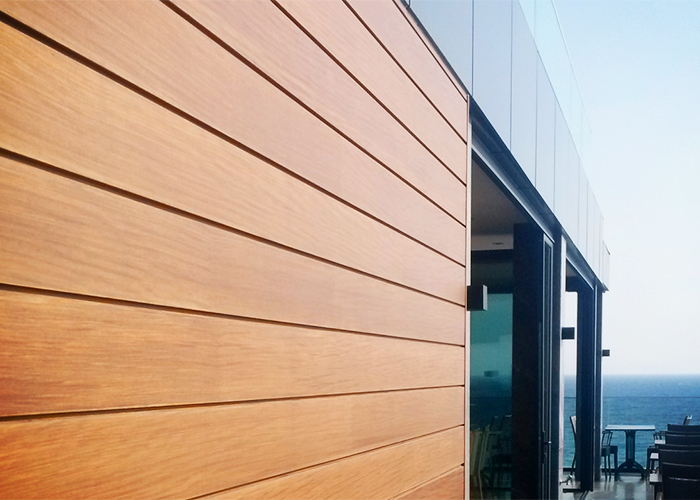 If only timber didn't rot...
Real timber and long-term moisture plus heat are not compatible. But if you want the warmth and look of timber in your wet area, then an exciting option to consider is our DesignerWood Aluminium range. Although not as durable as fibre cement, our DesignerWood aluminium batten & cladding system is a lightweight, non-combustible, and virtually maintenance free option that could be suitable in many damp areas. With two finish options in the range, a timber-look wrap and a unique genuine timber finish, this option could be the perfect solution for your next pool area.
Lets talk!
Our experienced Architectural Consultants and Technical team are available to discuss your specific project requirements. Get in touch via atkar.com.au today.